How To Make Dog Food
Your Furry Friend Will Love!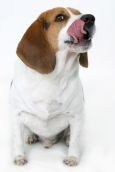 What's For Dinner?
Learn how to make dog food and join the many other pet parents who have chosen to kick it up a notch for their pets. A naturally good and tasty home made dog food recipe will definitely get your dog's undivided attention at dinner time.
Even if you are nervous about making your pet's food, think how many times pets have been harmed over the years by bad ingredients in commercial food!
Whether you choose to make home made dog food on a regular basis, or on rotation with a commercial brand you trust, I know you'll feel more confident when you know exactly what's in the bowl. Food your vet recommends or is selling, isn't necessarily what's best for your pet.
Want to also make treats for your pup?  Try these popular dog treat recipes.

In my view trying your hand at making dog food comes a lot closer to what dogs ate around the campfire not so long ago.
On a more practical note, what your dog eats has enormous impact on his development and long term health, not to mention his quality of life. And, because you made it yourself and know what's in it, you'll be able to judge by observation the results of home cooked food for yourself.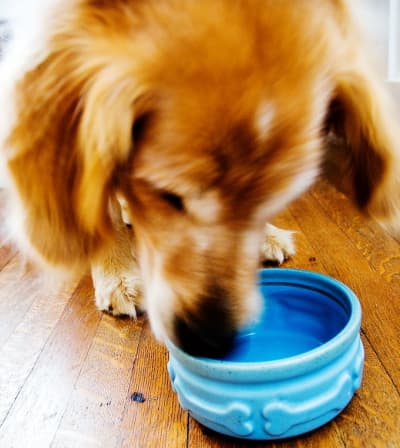 Wow, that homemade food was good!

The Benefits of Learning How to Make Dog food

Making dog food can not only benefit your pet, but will give you some peace of mind and clarity about the nutritional value of the food your pet is getting.
Much of the commercial pet food can't even come close to the quality that can be prepared at home. Watch your dog thrive once you start making his food, and enjoy knowing that you are protecting him from the slew of substances found in manufactured products that can actually do him harm!
Canine Nutritional Requirements
When it comes to maintaining the health and well being of pets through food and supplements - knowledge is power and will help you to make the best decisions.

Dr. Pitcairn is a well-respected veterinarian authority and his book, Natural Health for Dogs and Cats, is a valuable resource that provides information to guide you in meeting your dog's nutritional requirements, which will be a big help while you are learning how to make dog food for your pet.
Many of us pet owners choose to make our dog's food because we can have more control over the quality, type and freshness of ingredients. And there is no better reward for your effort than watching your furball enjoy his home cooked dog food.

How To Make Dog Food Easily
The best advice I can give when making the transition to homemade, is to keep the process simple! For this reason, I suggest making the food in bulk, then dividing and freezing the recipe into meal size quantities to be defrosted as needed.
The nutritional quality shouldn't suffer, because the food won't be frozen for that long. Also, if the ingredients are purchased in bulk, it will keep the cost lower.
Even so, you'll most likely agree that any extra pennies of cost are more than offset by the improved quality it provides for your best friend and family companion.
Sample Recipe
Okay, you may be thinking, I'm here to learn how to make dog food, but where's the recipe! Right, no worries, I'm not going to leave you stranded.
So, to get you going, here is a sample recipe from Dr. Pitcairn's book (with permission) that you can make in bulk:
5 cups rolled oats -raw
3 lbs (approx 6 cups) raw whole turkey, ground/chopped
1/4 cup vegetable oil
1 cup vegetables, cooked or raw - grate if raw and use less
Supplements: 6 tbsp (approx 1/3 cup) Healthy Powder*
4 tsp. powdered bone meal**
10,000 IU vitamin A (if using carrots, this is optional)
400 IU vitamin E
1 tsp. Tamari soy sauce, or 1/4 tsp., iodized salt (optional)
*Healthy Powder: Thoroughly mix the following and keep stored away from light in a sealed jar.

2 cups nutritional yeast
1-1/2 cups bone meal
1/2 cup kelp powder
**Bone meal: use the type for human consumption.

Directions:
Cook the oats
Add all remaining ingredients
Mix well
Makes approximately 18+ cups.

Optionally, you can lightly cook the meat if you are not comfortable with completely raw. You can also substitute different grains and/or meats.
While that's just one recipe, the referenced book provides several more recipes, including some natural dog treat recipes, plus full information about pet supplements, and much more about dog health, so I encourage you to get a copy. Your dog will benefit if you do!

Making Dog Food Tips
When you are learning how to make dog food, don't be afraid to try different meats. In fact, many professionals believe that food rotation is healthy and prevents a dog becoming allergic to one type of protein or grain.
Here are some other proteins to consider:

Fatty meats:

Regular ground hamburger, ground chuck, sirloin steak, etc
Roaster chicken
Lamb - neck, shoulder, leg, chops
Pork chops
And also Lean meats:
Beef or chicken liver or heart, kidney
Tuna canned in oil, salmon and other fish
Chicken gizzard, drumsticks, thighs
Turkey
If you're not planning to use the healthy powder called for in the recipe, a great alternative supplement is Ultimate Missing Link.

How To Make Dog Food - Nutritional Concerns
If you have a dog with special needs when it comes to his/her nutrition, don't be concerned. You will find valuable information in the Dr. Pitcairn's book for making dog food for those pets that require variations in their diet.
Their needs are addressed by groups that include: pregnant or nursing females; young, half-grown and older puppies; older dogs; dogs living in cold or very hot weather; vegetarians; conditions of malnourishment, anemia or dogs in convalescence.
Adaptations to the diet are very well explained for these groups as well as making dog food recipe adjustments.
Because home cooked dog food will no doubt perk up your dog's appetite, here's a guide providing the average daily amount of food your dog needs based on his weight. Naturally, the amount of exercise he gets will have a bearing on this also. But, keep an eye on Rover's waistline as a good indicator and adjust amounts accordingly.


Average Food Requirements For Dogs
| | |
| --- | --- |
| Dog's Weight | Cups of Food |
| 5 lbs | 3/4 cup |
| 10 lbs | 1-1/2 cups |
| 25 lbs | 3 cups |
| 40 lbs | 4-1/2 cups |
| 60 lbs | 6 cups |
| 85 lbs | 7-1/2 cups |
| 105 lbs | 9 cups |
| 125 lbs | 10-1/2 cups |
| 150 lbs | 12 cups |
What's next?

.....Treats
So now you know how to make dog food, the next thing your dog will be expecting is Treats and not just any treat but home made "healthy" dog treats.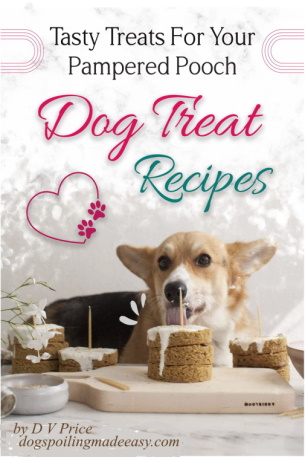 Try these easy dog treat recipes for your special pooch. They are quick to make and contain some favorite ingredients dogs are known to love.
Popular Topics You Might Like
Home
› Making Dog Food
Helpful Resource: ASPCA Poison Control Center should your pet accidentally consume something toxic (888) 426-4435