A Dog Carrier Bag
To Keep Your Pet Close And Safe!
Dogs like to go and a dog carrier bag makes it possible to take your furry pal just about anywhere.
Have you ever noticed how your pet becomes really alert when you are getting ready to leave and starts following you around? There's just no way he wants to be left behind as he makes a beeline for his dog carrier bag.
And of course you finally give in!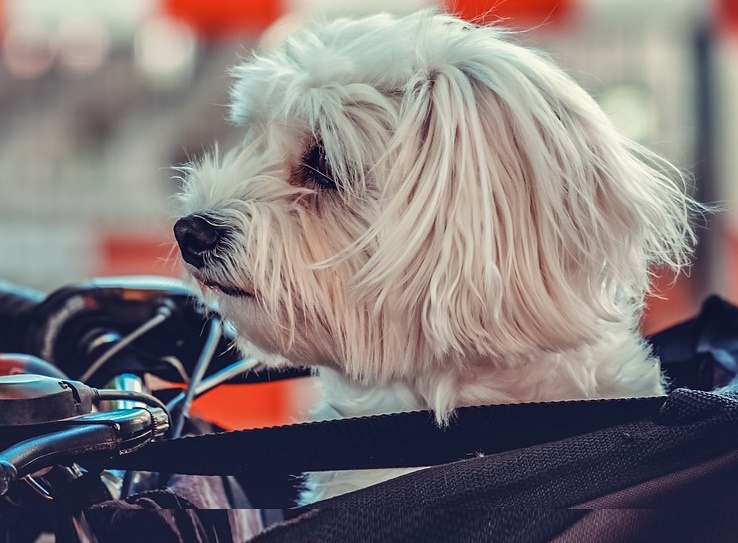 Going for a ride
Dog Carrier Backpack
Whenever you're out and about with your dog, you'll find the backpack dog carrier bag one of the most versatile for every day use.
Key features:
Functional: vet visits, safety on a hike, dining at outdoor cafes
Safety: keeps anxious pets protected and secure
Airline travel: great for this use, hands-free check-in is a lot easier
Some dog carrier bags have retractable wheels and can be pulled along, similar to your luggage. And, at boarding time, regular handles make for easy carry-on.
Here are three that we like for you to consider:

Airline Dog Carrier
When you are traveling by air for a vacation or others purposes, taking your little dog with you is possible providing you can plan ahead. There are many airlines that allow pets to travel with you in the passenger cabin area, but they limit the number on each flight so book early to avoid disappointment.
When pets are going to be with you in the cabin, they do need to be in an airline approved dog carrier, such as the ones shown below. According to the manufacturers these carriers are approved by most major airlines, but regulations can change, so be wise and double check before your departure date.
Dog Bike Basket
When it comes to taking your bicycle out on interesting trails or along beach sidewalks, most dogs seem to
get a thrill out of riding along enjoying the experience and fresh air. This is where a dog bicycle carrier comes into play.
We've selected three dog bike basket choices that attach to the front of your bicycle, but one other option for taking your pet along on a bike ride is a dog bike trailer to pull along behind your bike. Both make it easy to bring your pet on your outdoor adventures!
While you can't teach your dog to ride a bicycle, most dogs will happily settle for getting a ride. Plus these dog bike carriers are easy to assemble and attach.
Motorcycle Dog Carrier
And Accessories
Even when you go for a ride on your motorcycle, I'll bet your dog wants to come along. You know how dogs love to feel the wind in their face. So, for dogs on bikes, the versatile carriers pictured below can meet this need.
Some are airline approved and can also be used as backpacks.
The Right Dog Carrier Bag For Every Occasion
Two of the most popular types of bag are the dog carrier sling and the dog tote carrier, so we'll start with the best ones in our opinion.
As you can see, whatever your purpose or occasion there is a dog carrier bag to suit your needs. Many of them are right here, such as: the versatile backpack dog carrier, motorcycle pet carrier, car travel carriers, dog purse, dog bike carrier, airline dog carrier and more.
With all these options, it is easy to say "yes" when your dog wants to go along.
For a casual walk around the park, you might choose an out-doorsy yet fashionable pet sling carrier, like the Petoga Couture one pictured above.
For shopping trips, a small dog purse carrier, is a nice fashionable option. They can be used as an over-the-shoulder bag or carried by hand.
In either case your pet gets a good view of everything yet stays cool at the same time.
The Dreaded Vet Visit: A perfect time to use carriers is when your dog has to go for his routine visits as well as the unforeseen emergencies. On these occasions keeping pets calm is a top priority. Many of the carriers come with the convenience of seat belt loops for your car which saves you time when every minute counts.
Party Time... Lastly, when it comes to social occasions, well-behaved little dogs are often welcome at parties and it goes without saying that this is an opportunity to go in style. This is a time to pull out all the stops for your pets.
You'll find just what your small dog needs for special occasions right here.
---
 Popular Topics
Home
› Dog Carrier Bag