Name Tags For Dogs
Essential Protection For Pets!
The importance of name tags for dogs cannot be overstated when it pertains to a beloved lost pet. A dog wearing this most basic form of identification has a much better chance of being returned home.
Without a tag, all kinds of bad things can happen to pets and the odds of getting home at all, are dramatically reduced especially if he's been gone for a while before you know he's missing.
I'm not trying to alarm you, it is just a sad fact and the best way to avoid this is to make sure Fido can be found!

Custom License Plate Tags
Name Tags For Dogs vs Microchips
Embedded microchips for dogs are highly recommended by most authorities and definitely have their value. But, if a pet is found wandering around without a collar and tag, some people will be reluctant to approach him, much less try to find a vet with a reader to find out if he has a chip.

Plus, since it's a legal requirement in most places for a dog to wear his license tag on a collar when outside his home, it's an easy option to add a pet ID tag too. If you're bothered by the noise of tags, a simple solution is to use one of these silencers.
What Information Should I Put on
Name Tags For Dogs?
What you put on your pet's tag is your call and depends a bit on how you feel about privacy.  But if your dog has left for parts unknown, you want to have enough details to get him back quickly.
Here are some suggestions.

First and foremost, his name.
Pet ID tags are the most useful when they have phone numbers for more than one person that can always be reached, such as a family members, or a neighbor.
The name of your dog's veterinarian along with his phone number.
If your pet has a microchip, add the name and phone of the place where it was embedded.
The pet's name can go on one side with the other info on the reverse side. Be sure to check the tag frequently for any signs of wear.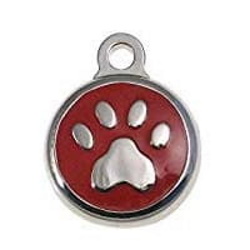 Enameled Paw Print Tag
With Custom Engraving On Reverse
Dog Name Tags With Style
Don't settle for ho-hum, pet tags come in lots of stylish varieties so your dog doesn't have to look like he's in the military!
Nowadays, there are fashionable ID tags for dogs of every size, so you can combine function and style. Plus, it's fun to spoil them with unique tags and on the practical side it's good to have a back-up in case one gets lost.
You can also back-up his safety with an name embroidered collar - especially if your pet is a great escape artist and his tag should become dislodged during one of his bids for freedom!
With that in mind we've included a few cool choices on this page and you can see even more designer dog ID tags here.
Many of the tags on these pages can be customized to your liking if you choose to place an order.
Now I hate to tell you this, but sooner or later your dog will go missing. Someone will thoughtfully leave the gate open for Fido, or he'll find a find a spot to dig a way out under the fence.
And poof, he's gone!
There's nothing much worse that a missing pet. While you'll no doubt get into a bit of a panic, if he's wearing his tag with up-to-date contact information, you'll feel a lot more confident about getting him back!

Personalized Pet ID Tags, Anodized Aluminum
Stainless Steel Name Tags For Dogs
What are the best materials to use for dog ID tags?
Most popular material that comes to mind would be metal, such as stainless steel because it's rustproof, durable and easy to engrave. Aluminum would be another metal to consider if you prefer a lighter weight yet durable material that can also be engraved. Here are some to consider:
Is Your Dog A Good Navigator?

If your dog is not a good at finding his way home, then his dog ID name tag is even more important.
If you do nothing else, make sure your dog is licensed and has his animal control tag securely attached to his collar. This is probably his best bet and only hope of being rounded up quickly and returned to his family.


Custom Engraved Pet ID Tags
with Swarovski Crystal>
Also, make sure you have some recent digital photos of your dog that could easily be converted to flyers and circulated in your neighborhood if he gets lost.
It is a sad fact that many dogs are being euthanized each year because pet owners couldn't be located. A powerful reason to make sure your pets has a dog identification tags.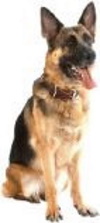 If I get lost, you can find me with a GPS!
Without any kind of tag, finding your dog can be significantly delayed. One innovative solution to finding your dog quickly once he's made a break for it, is the GPS dog collar - a device that combines GPS and cell phone technology. If he has any medical issues, this can be a real blessing.
Dog Name Tags - Tips
If you are often away from home, even for a short while, make sure:

Your property is a safe haven for your pet, with his own cozy dog house and a fresh supply of water.
That his dog ID tag is securely in place.
If your pet is micro-chipped, include this information on his tag.
That there are no escape routes or unlocked gates.
That your dog is out of sight from passers by (dog snatchers)...
Schedule deliveries for when someone is home
and to leave your pet some favorite dog toys, chewables or puzzles to keep him happily busy!
---
Home
› Dog Name Tags
TOP