Health Insurance For Dogs
Important Protection!
Health insurance for dogs is something you may be considering if you have recently paid your vet a considerable sum for a procedure your pet needed. Ouch!!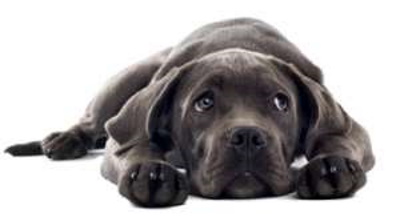 If you have the discipline to open up a savings account for your pet's health care and make monthly deposits, you could hedge your bets that your pet won't contract something expensive to fix anytime soon.
But for most pet parents it would take a while to build up enough cash to cover some of the catastrophic illnesses that can affect any dog - maybe your dog!
The big fear of course is cancer which would likely cost thousands in treatment.
Did you ever think about taking out insurance before your dog got sick? Probably if you're like most of us, you didn't.

The Benefits of Health Insurance For Dogs
Peace of mind knowing both accidents and illnesses can be covered.
Managing the costs of long term treatments.
Insurance helps cover diagnostic testing, surgeries, hospitalization, prescriptions and the unexpected emergencies that will occur during a dog's lifetime.
1 in 3 pets visit the emergency room each year according to industry statistics.
Health insurance for dogs is a good alternative to saving for a rainy day - would you really put the money aside? What if your pet needed expensive treatment next week, would you have enough saved?
Relieves you of heartbreaking decisions about cost of treatment when you pet has a life threatening condition!
Takes away the worry of unanticipated emergency vet visits.
1000's of illnesses eligible, plus emergency treatments, depending on the plan you select.
And think about this one - dog and puppy insurance is cheaper than a veterinary loan.
It's not just for older dogs. Start while they are puppies - young pets are less coordinated and prone to accidents.
Consider what some of the typical health insurance for dogs covers: surgeries, cancer, genetic conditions, accidents, eye problems, ear infections, skin allergies, MRIs, CAT scans, blood work, and much more.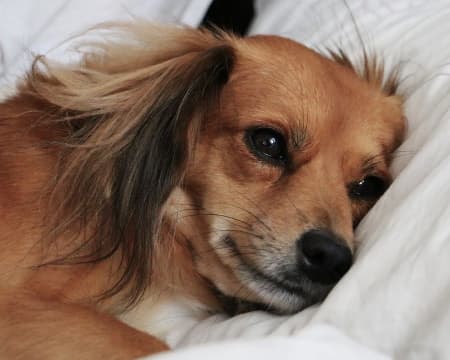 Why "You" and "Rover" Need Insurance
It's hard to imagine that your pet will ever develop a life threatening illness when you have always taken good care of him.

When it does happen, the cost of treatment can be devastating to our budget. While the first concern is getting the help he deserves, the cost of treatment can present a difficult economic decision.

In some cases, a family may be forced to make the "unimaginable" choice of parting with their best friend. But it does happen!
Pet insurance may save you from ever having to make this choice in a crisis.

Health insurance, is a lifeline Rover doesn't want to be without. When your dog needs to see the vet, he wants to be sure you can afford to get him the necessary help.
The Cost
The monthly insurance premium to cover a dog for both accident and illness is in the range of $25-42, but there are several factors that can swing this range to higher numbers. Those factors include the age, breed and health condition of your dog, where you live and what level of coverage you are seeking.

As you may realize, it's not possible to give you an absolute amount you will pay for your dog's health insurance. But you can easily get a quote from several insurers by using their online quote forms.
Some well-recognized pet insurers include Odie Pet Insurance, Healthy Paws, Embrace, 24PetWatch and more. Check some of them out to make your own comparison.

Odie Pet Insurance, has customizable plans to suit your pet's health goals and budget. When it comes to customer satisfaction, Odie has Televets available, included in their plans, to answer questions that may save you a trip to your vet's office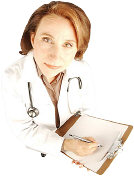 No matter how much spoiling you give your dog in the form of toys, treats, fancy beds, apparel etc., nothing will be more important than giving your pet the gift of good health. When the family's best friend is out of sorts, whether it is a problem related to his ears, stomach, bladder, or even his eyes, everyone is worried.
At times like these, we don't want to have to think about the cost of going to the vet to find out what is wrong with Rover.  We just want to make him better quickly!

Sometimes we may find a home remedy we can try, but many other times the vet's professional advice is needed.
Our pets give us unconditional loyalty and love... and we owe them the same! When they are down and out, they really rely on us to get them the best veterinary care they deserve to return them to health. It is almost impossible to think that we would have to decline a life-saving treatment for our beloved dog, because of cost!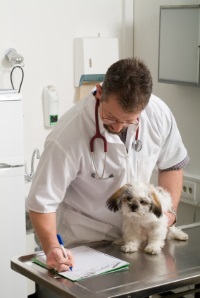 Planning ahead by taking out health insurance for dogs, will help you and your dog rest easier.

Long before that unhappy day when your pup is poorly, a recovery network should be in place.

My advice is to get off on the right "paw" by finding a competent and caring vet - before you "need" one in an emergency. It will be ever so much easier to handle a crisis when the vet already has your dog's records. And, if his clinic is close to home, so much the better.

Ask around in dog lover circles for referrals to vets or clinics they use and trust. Or check online. Vets belonging to the American Animal Hospital Association (AAHA) aahanet.org., have aspired to meet AAHA's high standards of quality care.
But don't stop there... Pay a visit to more than one facility close to your home. Take note of the housekeeping, the way you are welcomed and the willingness of the staff to show and tell you about their clinic and policies.
Find out about the hours of operation, fees and how they handle emergencies. You might also find out how many veterinarians are on staff and if they each have the same or different areas of specialization.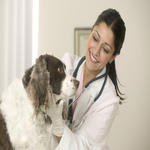 When you have sniffed out the lay of the land "vetwise", you'll be a lot more comfortable in choosing a vet for your best friend and getting all his dog records organized.
You'll also feel a lot more secure knowing that you've got a protection plan in place which will no doubt include dog health insurance for your pet. Dogs go through certain stages of development when they are more prone to disease and accidents. One of these times is during Puppyhood.
You'll want keep up on all their puppy shots to protect them against disease and give them a chance to develop a strong immune system during this stage of their lives.
Later on, other health challenges invariably will come up - some more severe than others.
Insurance to cover medical condition that need the vet's attention could really help many a financial decision involving your pet. So think about enrolling him early, before health problems occur which might then be excluded.

If our dog companion were to develop arthritis, a back problem, or some other serious condition, I know most of us would break the bank to relieve him of his pain.

But perhaps we don't have to.... With a little insurance pre-planning, perhaps we can ease our financial pain too!
Before You Go...
If you like the content of this page, as well as others on my site, please give it some love by clicking on the heart in the lower right hand corner. This helps me to keep providing enjoyable and useful content.

Thank you


Popular Topics

---
Home
› Dog Health Insurance