Outdoor Dog House Designs To Shelter
Your Pet Come Rain Or Shine!
The main feature of an outdoor dog house is that it must be usable year-round  or your pampered pooch will have a fit!  Just kidding.
But, joking aside, if your dog does spend any amount of time in the back yard, it is important that his 'pad' provides the best shelter no matter what weather the day brings.

With that in mind, we've put together some outdoor dog houses that we think will stand up to the elements.

While style may be a high priority for a top dog, comfort and safety, along with easy maintenance, must be part of the package for long term love!

The dog houses that follow include various construction materials to help you find just the right home for your pet. So let's get to it.


Best Outdoor Dog Houses To Consider
This popular house with a high customer approval will keep your dog comfy and dry in all kinds of weather and is ideal for larger canines.
Made of durable resin materials providing waterproof protection on those stormy days that can be both rainy and windy.

The attractive stylish design could even blend well inside the home, such as in a family den or on a porch.

Another nice feature is the raised floor which prevents moisture from building up underneath, helping to keep the base dry when placed outside, while at the same time allowing for drainage when it needs to be hosed out.

All in all, this is well-crafted high-quality dog house perfect for the larger dog.
A good example of unique style, combined with year-round weather protection - either, cold, hot or rainy, is the igloo dog house. This ingenious type of construction has been around for centuries making it possible for people to live in extreme climates with protective shelter.
And now pets can benefit from this design too! 
The igloo-shaped dog house easily sheds rain, snow or dirt from the exterior while the heavy duty structural foam plastic material provides a comfortable environment during hot or cold days.  A top vent allows air circulation without letting in the elements.

An extended doorway provides additional protection on wet or windy days plus the entire house is treated with a substance to make it resistant to bacteria, mildew, odors and stains.
Various sizes are available to meet the needs of small, medium or large dogs.
Wooden Dog House Designs

Wood is a good insulating material and these dog houses are popular and provide weather protection for outside dogs. Here are a few to consider.


Your dog is sure to be envied by the local pooches when they see him looking very smug in this highly rated, sturdy wooden doghouse.

You'll like its attractive classic design, solid natural cedar construction along with a slanted asphalt roof for drainage. Legs at the base to keep it above ground and retard moisture building underneath.  Roof can be opened for easy maintenance.
Best of all, your dog will be kept well protected all year long!

Did we also tell you its  a snap to assemble right out of the box!!
A smart looking  wooden doghouse available in four sizes to suit extra-small, small, medium and large sized dogs. This allows you to choose a house that is roomy or a snug fit for your pet.

This A-frame design made of natural fir with extended eaves has ample protection on the outside from rain or snow. Siding combined with a contrasting trim results in an especially attractive doghouse any pampered pooch deserves.

An added benefit is the asphalt roof material which provides a non-toxic and weather-resistant environment.
This delightful rustic log-cabin-style doghouse with attractive and spacious front porch has that one-of-a-kind styling you can be proud of!

With two interior rooms, the cabin could easily be an enjoyable home to more than one dog of medium size, if that is needed.
Made from non-toxic fir wood and durable asphalt roof shingles to withstand weather conditions like rain, snow, and wind.  The raised deck provides an ideal space for extra water dishes on hot days,  while also giving your pets the perfect outdoor space to snooze!

Removable floor panels make for easy clean-up and this sturdy dog house with its off-the-ground design keeps the interior dryer and warmer while guarding against mildew and wet conditions.

Whether you prefer classic, traditional, modern or rustic outdoor dog house designs ...
you can find well-constructed houses of professional quality to shelter your pet throughout the year.

Let move on to some other materials for an outdoor dog house.


Plastic Dog House Choices
One thing that some pet parents like about the plastic dog house, is the easy assembly and durability.


There's a lot to like about this outdoor dog house, first and foremost:
Very pleasant design - you won't mind looking at it in the back yard.


Made of plastic so it will be durable and protective in wet or windy weather.


Good ventilation on all sides to keep your pet cool on warm days.


Base is elevated to keep water out.


Easy and quick to assemble.


Clean-up is a breeze.





Here's an outdoor plastic dog house with so much charm you might want to use it inside your home as well.
I can see this house being perfect for small to medium size dogs, or two smaller ones.  Some pet parents have even housed as many as three miniature breeds comfortably.

Nice features include:
Four legged design keeps base floor off the ground protecting it from  moisture and insects
Side vents which slide open or closed as needed.


A functional skylight that not only adds a special touch to the design, but is also great for ventilation on warm days and can be closed when rainy or cold - waterproof and weather tight.


Simple snap-together assembly makes it suitable for travel.


Smooth easy to clean surface.
Tip: Always measure your dog to make sure he will be able to get through the doorway. In this case the entrance is 12"x18". House size is 35"x28" with an approximate height of 30''.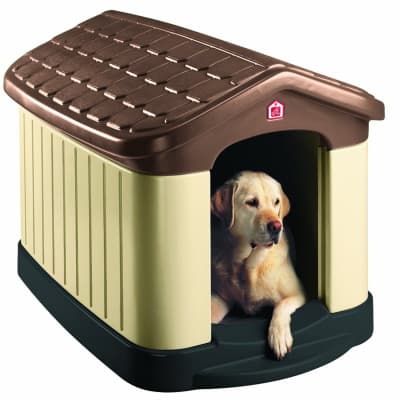 Rugged Plastic Dog House
A timeless "Consumer Digest Best Buy award winning" plastic dog house that will see your dog(s) through countless seasons due to the all-weather design features.
Double walled durable construction provides more insulation clout during hot or cold days to keep pets comfortable and protected.


Rooftop is removable for easy maintenance and paint is fade resistant with UV protection so it will retain a nice appearance.


Above ground raised floor for pet comfort and to help keep out the rain.


Suitable for two smaller dogs or one dog up to 125 pounds if not too tall. Inside dimensions are  24" x 35"x 14" with a  doorway height of just over 20".


Made in America.



Insulated Dog House
If you live in a more extreme climate, insulated dog houses are the way to go. While the investment may be a little more, you'll have peace of mind knowing your dog will be protected and safe.
This first dog house appears to be a popular choice among the dogs that have been lucky enough to enjoy its shelter.
Insulated Dog House
Key features:
Entrance door is insulated and self-closing preventing temperature changes.


Insulated raised floor to keep interior bedding area dry and warm.


Substantial EPS foam in walls and ceiling to keep pets warm during cold months and cooler in summer heat.


Front and back window panes are adjustable to closed or open positions for ventilation options and/or seasonal changes.


Sturdy exterior made from durable polystyrene


Suitable for medium to large dogs.
If your winter temps are extremely cold you may want to consider the optional accessories for this insulated dog house which include a fleece dog bed and a water-resistant floor heater with built-in thermostat.

Tips For Choosing Your Outdoor Dog House
Before you select an outdoor dog house for your pet take a minute to consider the year-round climate in your area and what best would protect him all the time.
Also of course consider the size of your dog. Certainly a pet needs enough room to turn around inside his house, but it will keep the cold out better if it's not too big. Insulation will be more of a factor in extreme hot and cold climates.
In areas of frequent rainfall, elevated outdoor dog houses will be the best choice because they allow airflow under the base. This will be a big help in preventing moisture buildup and subsequent rot from occurring, not to mention lots of undesirable creepy crawlies!
For your pet's winter comfort, consider adding a heater to your outdoor dog house.
Here's a thermostatically controlled, safe and efficient heating unit that mounts easily inside a dog house and will keep your dog dry and warm.
 
Be sure to order early before bad weather sets in.



Related Topics
---