The Igloo Dog House
Why Your Dog Will Love It!
Your dog will love the cozy igloo dog house because he will be comfortably warm in winter and cool in summer.

One of the unique features that makes this possible is the nitrogen insulation which moderates the temperature. Another, is the energy-efficient compact design, which also happens to be rather charming.
The igloo dog house aka dogloo, also appeals to owners for a number of reasons:
It is a unique insulated dog house at a very affordable price.
It offers very good year-round protection for pets no matter what the weather.
Owners attest to them being durable, very low maintenance and easy to move around.

This style of dog house comes in a variety of sizes and designs to suit any dog's needs while enjoying his day in the back yard.
Extra Large Igloo Dog House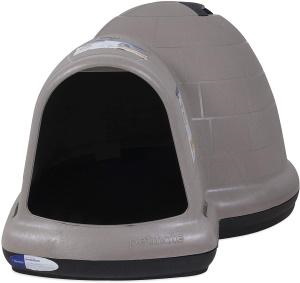 Extra Large Igloo Dog House
Product Description:

Innovative structural foam plastic for year round comfort
Treated with Microban for germ resistance
Offset doorway for weather protection

Raised door threshold for added moisture protection
Adjustable top vent to keep air fresh
Side moats for drainage

High customer satisfaction
Taupe and black color combination
Made in USA

Dimensions: 51.5 x 39 x 30 in

Large Indigo Igloo Dog House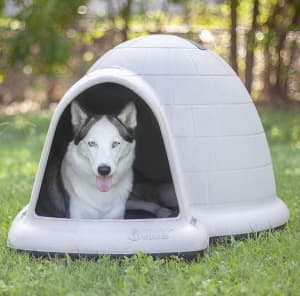 Igloo for Large Dog
Structural foam insulation for climate control all year round
Suitable for large size dog

Antimicrobial protection against stain growth, bacteria, mold and mildew
Extended offset doorway for rain and wind proofing
Raised rim and elevated threshold for wet weather protection
Roof top has air control vent
Made in USA


External Dimensions: 43.8 x 34 x 25.8 inches



Medium Indigo Dog House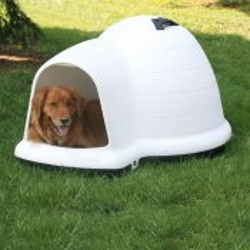 Igloo for Medium size dog
Product Description:

Unique extended doorway design
Provides maximum protection from elements
Durable heavy duty foam construction for climate control
Adjustable rooftop ventilation
Sizes for small and large dogs
Made by Petmate in the USA

Dimensions: 37.5L" x 30.5"W x 22.8"H

Dogloo with Microban
Stable in high winds
Good air circulation
Made with Microban to protect against bacteria and odors
Vents on roof top for fresh air circulation

Appropriate size for large dogs

Dimensions: 30 x 39 x 47 inches
Igloo By Iris USA

Product Description:

Suitable for small to medium dogs
Designed for indoor or outdoor use

Made of durable plastic in white/almond colors

Aerodynamic shape promotes good air circulation
Roof top ventilation
Easy to clean

Made in USA


Dimensions: 37. 00"L x 26. 50"W x 24. 00"H


Optional Accessories
| | | | |
| --- | --- | --- | --- |
| | | | |
| Indigo Pad | Indigo Door | Dogloo Door | Igloo Style Heated Bed |
CLICK on any image for ordering details
Related Topics