Types of Dog Collars
Needless to say, while there are many types of dog collars available today, they each do have their purpose.
And, when it comes to what type is best for your dog, that depends largely on its intended use, be it just for everyday walking, a quick trip outside to water the daisies, or a training session. Giving it a bit of thought before you buy one may save you from making the the wrong choice for Rover or Roxy.
That being said, I'm the first to admit that with so many types of dog collars to choose from it can get confusing. Hopefully, the descriptions of the various collars on this page will help sort things out - even though you may never need to consider some of them for your pet.
Ready? O.K., let's go.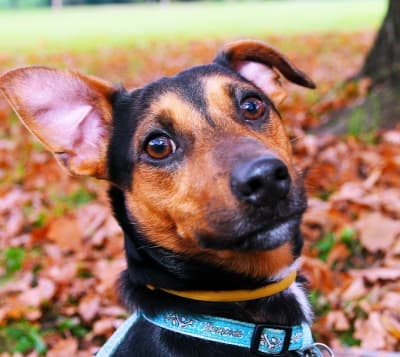 Dog Collars For Fashion Or Function?
Fashionable or functional - who says you can't have both?
Actually, if you have to opt for one over the other, you as a "bonafide dog spoiler" would definitely choose the one that best fits your dog's needs without regard to Gucci, Coach, Burberry or Bling - right! On the other hand, sometimes you can have it both ways.
But, fashion aside, here's how it briefly breaks down into types - we will cover more details on separate pages of the website. The listings that follow are what we found to be good representations of each type.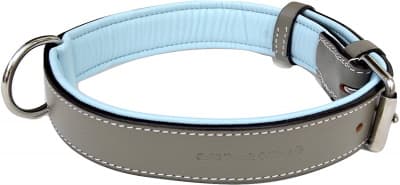 Buckle collars with or without a quick release buckle. This is your basic collar - the type for everyday use and for attaching your dog's identification tags or medical information. This one has a nice padded interior that will be soft against your pet's neck.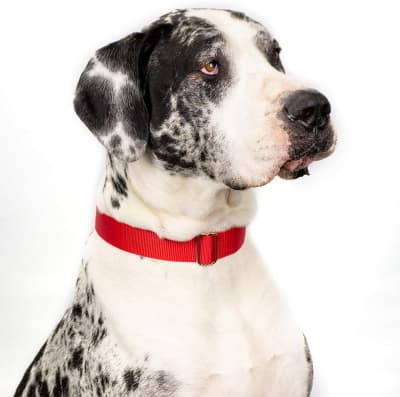 Nylon Collars - Very long wearing and waterproof . The one above is adjustable, has a metal buckle and is available in a choice of 22 of colors and comes in sizes to fit dogs from small to extra large. Made in USA.
Glow in the dark collars are ideal for night time walks, but also a safety measure if your dog sleeps in your bedroom to prevent anyone tripping over him and causing injury to both parties!

Flashing collars - another safety type collar similar to the one above and great for night visibility while out walking.


Types of Dog Collars For Training
Different types of dog collars are needed when a dog is hard to control or has pulling issues when being walked. If your dog is reactive to other dogs or is easily distracted by fast moving small animals such as squirrels, these three products can help solve the problem:


The Gentle Leader Dog collar, or the Weiss Walkie no-pull leash provide owners with better control of their dog's activity during a walk, making it more enjoyable for everyone.


The Gentle Leader is not exactly a collar per se because it's designed to fit over a dog's nose and control body movement when your dog tries to pull you down the trail, jump up at someone, or lunge at another dog. A simple concept that works very well in putting a dog off balance in these situations.
The Walkie attaches to a dog's collar and then loops around his chest. Similar to a harness, when the dog pulls, the loop tightens creating pressure dog's chest. This pressure causes the dog to slow down and relax. The Walkie was designed by a certified animal behaviorist and is a favorite with many Humane Societies for its effectiveness.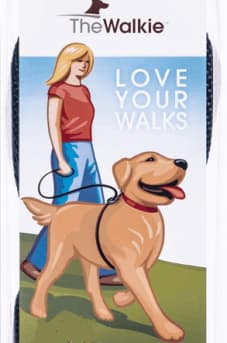 The Sporn halter harness has restraints under the front legs that make a dog stop when he pulls. The harness puts pressure around the torso in response to pulling, but does not put any pressure on the neck so there is no danger to the trachea. With its innovative design you can comfortably train and control the dog while out on a walk. Recommended by hundreds of pet parents.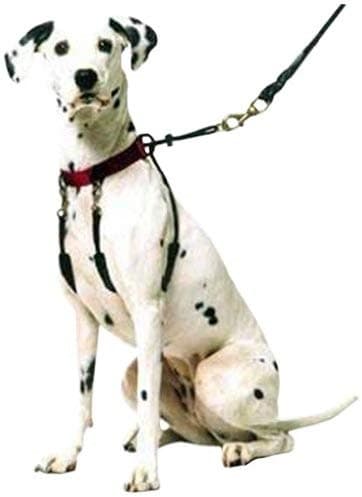 Other training collars include all-in-one Slip Leash and Collar, as well as pinch collars that provide safer alternatives to choke chains. Pinch collars (image below) simulate what mother dogs do to correct a puppy by picking it up around the neck with her teeth (the pinch) and removing it from the activity. The key in using any type of training collar is to closely follow the product's directions.
The slip leash and collar is suitable for taking a dog to the vet or groomer, getting in and out of a crate for transport, or short trips outside for a potty break.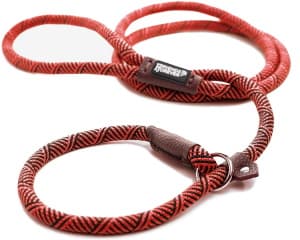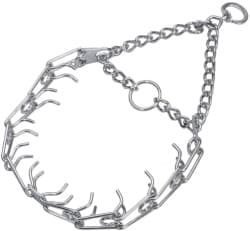 Types of dog collars used for Behavior Modification include the  citronella no bark collar, as well as those that use ultrasonic technology to control barking.


Dog Tracking - GPS Dog Collars may save your dog's life if he gets out and winds up being lost.  If he's wearing this type of collar, you'll be able to get on his trail very quickly to bring him home!
Everyday Collars and Harnesses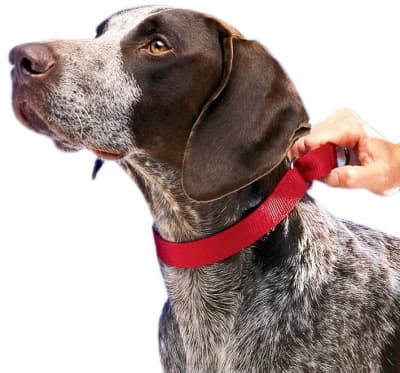 Martingale dog collars often referred to as "escape artist collars", are made with a safety, loop-on-loop system that tightens a 'controlled' amount around a dog's neck. Generally these are recommended for small headed dogs with slim necks, like whippets, to prevent them slipping out of their collars as these quick little woofers are prone to do.
Among the wide variety of unique dog collars and leashes, another useful option for some pet parents, are harnesses. These are especially good for little tuggers. This type of design takes pressure off the neck area to prevent choking when a dog tries to pull too vigorously. Getting the right fit is important here.
Some of the popular varieties available are Buddy Belts and Small dog harnesses.

When selecting the types of dog collars for every day use, the main thing is to choose one that matches the strength of your dog. The more durable ones come in hemp, nylon and this leather harness.
---
Home
›
Dog Collars