Hemp Dog Collars
Naturally Soft, Eco Friendly Too!
A good reason for choosing hemp dog collars, is that hemp is naturally hypoallergenic and earth friendly. What that means, is that dogs who are prone to sensitive or itchy skin - and that means many of them - will be comfortable wearing this very versatile type of fiber.
Not only that, but they will love the fact that it gets softer over time. This, in my mind, is a really nice dog spoiling reason for considering this fabric.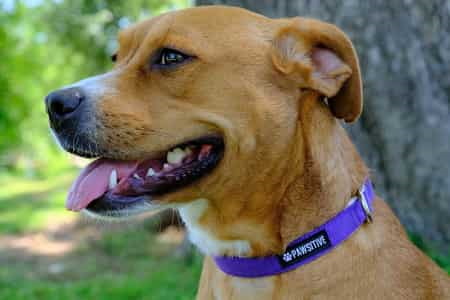 Pawsitive Hemp Dog Collar
Some Interesting Facts About Hemp
Although the history of this fiber is really significant, I won't go into great detail about it. But, here are a few highlights of interest that came up in my research:


The first American Flag made by Betsy Ross was made of hemp.
The Declaration Of Independence and the Constitution were both written on hemp paper.
Hemp seed has the highest percentage of omega fatty acids - healthy stuff!
The history of hemp dates back thousands of years BC and hemp was used extensively in ancient times for various everyday needs such as making canvas sails.
Hemp is the longest natural fiber known to man.
Benefits of Hemp
Here are a few of the benefits of hemp dog collars to consider:
It's biodegradable. We all know that dog collars have to be replaced at some time, so it's nice to know that the worn out collar can go on its way without contributing to ecological concerns.
While hemp may be soft and gets even softer with use, it is one of nature's strongest fibers, and will outlast most other fabrics. In other words, very durable and economical.
If it gets wet, no problem, because it is resistant to mildew and shrinkage. So, as you may have guessed it is also easy care - you can just toss the collar in the washer when it needs cleaning.



Salt Dog Martingale Hemp Collar
Choose from Several Colors
Made from Sustainably Sourced Hemp
Martingale dog collars  are made with a safety, loop-on-loop system that tightens a 'controlled' amount around a dog's neck. In other words this type of collar tightens when your dog pulls and loosens when he stops pulling to help make sure that the collar is never too tight

While these are helpful with any dog that tends to pull, they are especially good for dogs with slim necks, to prevent them from escaping or backing out of the collar.
Measuring your dog's neck and picking the right size is important to have a secure fit.

Martingale-style collars give you gentle control over your pet while training.

Are Hemp Dog Collars Safe For Pets?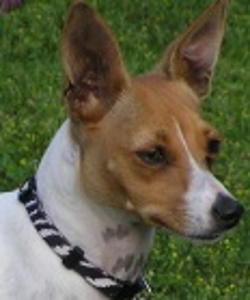 Until recent times, hemp collars would be unfamiliar to many dog owners. Maybe some would even have wondered about the product's safety for pets. To clear up any confusion, the hemp used in pet accessories bears no relationship to the medicinal variety and is even grown differently.
However, Cannabis oil has been showing up in the news quite recently in reference to its use in treating various pet health conditions. See a link to an article on this topic at the end of this page.
So, adding to its many other benefits, hemp fiber is also a safe material for your pet, and is grown and processed without using chemicals.

Furthermore, if you have a rowdy sort of dog that likes to play with his hemp collar, it's strong enough to withstand his chewing without tearing.
That being said, if he does manage to snag a piece of the collar and swallow it, no harm done - hemp fiber is digestible.
This cannot be said for cotton based fibers that could cause a digestive problem.
If you're liking the notion of environmentally friendly hemp dog collars, here's one with a cozy fleece lining for an extra little bit of TLC to spoil your furry friend. Plus you can get a nice leash to match!

Hemp Dog Collars - Buying Tips

100% pure hemp fabric and naturally dyed, if you prefer a particular color.
Made in the USA - no worries about manufacturing processes meeting standards.

I hope you're getting excited about hemp dog collars for your pets - your dog will thank you!


Cannabis Oil For Dogs article.

Related Pages

Citronella Anti-Bark Collars
---