Dog Food Comparisons - Food For Thought!
Dog food comparisons can be helpful to pet parents because trying to find the best dog food for their dog can be confusing as well as very, very time consuming. If you've struggled with this problem, maybe I can save you a little time.
There are hundreds of dog food products available, yet in my mind only a handful of them contain the quality of ingredients that a dog lover would choose for his pet.
Even the most well-intentioned dog owner, may not have the huge amount of time it takes to go through comparisons of pet food products to find the best dog food.
My own dog food comparisons have led me to a choice I think provides an excellent nutritional foundation to maintain a healthy dog. That choice is Sojos (Sojourner Farms Natural Pet Food), a company that has been providing premium pet food since 1985. And, if you're interested in why I am wholeheartedly in favor of this company's products, don't go away.
Dog Food Comparisons - Home Made is The Nutritious, Quick And Easy Way
First of all, let me say that making your own dog food is the best and only way to know what your Rover is eating. There are no mysteries when you are mainly using fresh ingredients. But, I'll also be the first to say that making it entirely from scratch is not always a realistic option for busy people.
That's where Sojos comes in, providing ways to make fresh homemade dog food in minutes using one of these premium formulas:

Sojos Complete Formula With Turkey
A combination of honest ingredients including USDA freeze-dried raw turkey, dried sweet potatoes, whole eggs, and apples.
Made in the USA with all human-quality ingredients. No preservatives. Nothing artificial.
And, because this formula is grain-free, it's suitable for dogs with sensitive digestion.

Sojos Complete With Beef
Wholesome grain-free formula made with sweet potatoes, USDA beef, celery, carrots, cabbage, whole egg, flax meal, tricalcium phosphate, cranberries, papaya, pumpkin, rosemary, parsley, ginger root, dried alfalfa, dried kelp, zinc sulfate, vitamin E acetate, vitamin D3, vitamin A palmitate.
Made in the USA with all human-grade ingredients. No preservatives or anything artificial.
Just add water and you've got a fresh, home-prepared dog food in a snap.

Sojos Natural Mix-A-Meal Food
This Sojos formula contains a blend of natural, nutritious and wholesome dried veggies, fruits, herbs and other healthy foods for dogs with sensitivities to grains.
You just add water and your choice of fresh meat. You can use any of your dog's favorite meat, either lightly cooked or left raw for optimum nutrition.
In my mind, once you've checked out Sojos, you won't need to make any further dog food comparisons!
So in summary....
Review Of What You "Get" With Sojos
All ingredients are of human-grade, which means they have to meet the same safety standards as food that you and I eat. This fact is very reassuring news to dog lovers like me who think dogs deserve this level of protection.
All ingredients are home grown in the mid-west where the company operates its own manufacturing facility.
Sojos formulas contain healthy all-natural foods like USDA freeze-dried meat, rolled oats, barley, rye flakes, sweet potatoes, ground pecans, kelp and parsley, to name a few. Preparation is easy, easy, easy!
Formulas are available with or without meat. And, with or without grains.
Sojos pet food is not cooked, processed or extruded, so it retains the full food value.
Importantly - What You "Don't Get" In Sojos!
The items below are very important to note when making dog food comparisons - here's what you will not find in this natural dog food brand.
Sojos does NOT contains fillers, preservatives, or artificial flavors as most popular brands do, which just take up space with no value.
Sojos does NOT contain chemicals or by-products.
Sojos does NOT contain any of the ingredients identified in pet food recalls.
(For the health of your dog, make sure other brands in your dog food comparisons, review meet this criteria!)
Additionally, dogs thrive on Sojos and love the taste. Many dog owners have attested to not only this fact, but many also tell amazing turn-around stories about the recovery of their pet's health and vitality when they switched to Sojos.
You can look at all the dog food comparisons charts your want, but be sure to also read some of the glowing testimonials from pet owners who have already compared and chosen Sojos based on the impressive results they saw.
The changes brought about in their pets alone makes a compelling argument for anyone seeking a road to better health and nutrition for their dogs and cats.
By now you may be wondering how easy Sojos dog food is to prepare?
Take heart, it's both easy and quick. The simple steps are:
Measure out a serving,

Pre-soak in water,

Add your choice of raw meat and vegetables. 
For convenience, the vegetables can be the same as those you are preparing for yourself and served either raw or lightly steamed.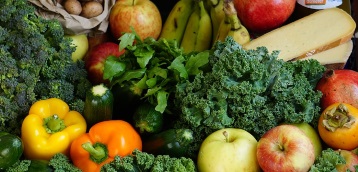 Preparation Tips

If you have a really hectic schedule, you can prepare several servings in advance to store in the freezer - just take one out after each meal to have ready for the next. How simple and convenient is that?
Some fruits and vegetables to consider are broccoli, zucchini, peas, shredded carrots, beets, apples, blueberries, green beans, sprouts, bananas, melon, pears, brown rice, cottage cheese and yogurt. Veggies can be raw or steamed.
Just one more point, if you squirm at the idea of raw meat, you can lightly cook it - just keep in mind that some of the nutritive value will be lost. And, in case you want to reconsider, dogs in the wild always ate raw kill...no barbecues back then!
One common thread among dogs who enjoy Sojos, is that meal times now become a major highlight of their day.
Dog Food Comparisons - In Conclusion
I'm not claiming to be the definitive source of information on dog food comparisons, and as I said earlier there are a few other companies whose products meet high standards.
But I can tell you this, there are lots of folks who have put Sojos at the top of the list after feeding other brands and would not feed their dog any other product than this one.
The choice is obviously yours and if you feel better doing some more of your own dog food comparisons to find answers, I urge you to do so. But don't forget to bookmark this page while you are checking out the competition, because I think you'll be back!
On the other hand, if you give Sojos a try first, there's a good chance you may never look back!
Let me say one last word about making dog food comparisons - they can easily be deceptive! Remember the saying, "you get what you pay for," so when you are looking into other products, please take note of their serving sizes, and the amount of low grade fillers you'll often find in them.
Oh, and while you're comparing don't forget to check if the food in other brands is of human-grade and the ingredients are grown here in the USA.
Sojos is human-grade and does not contain fillers so typically your dog needs only half as much as other products, making the cost per serving, including the meat you add, a very affordable nutritious meal. For further cost savings, you may also want to want to take advantage of the free shipping plus the bulk discount on larger sizes.
May your pets live long and healthy lives.
Related Content