Easy Dog Treat Recipes
You Can Make At Home In A Flash!

Make some of these easy dog treat recipes and you'll be rewarded with the grateful look in your furry friend's eyes as he enjoys the healthy, lip-smacking treat that you just made for him.
What dog lover doesn't want that!
Easy Dog Treat Recipes vs Store Bought
Want to make some irresistible dog treats your pup will gobble up and come back for more? Of course you do, you're a dog lover!
Want to stop buying those expensive store bought boxes of treats that go up in price every time you buy them - Yikes? Of course you do.
How will achieve that? I think you've already guessed the answer.It's the same one that became obvious to me when I wanted to give my pups something better:
Make my own "barker's biscuits" (just made that name up) that would not only benefit my pup because of being healthier, fresher and tastier, but also a lot cheaper - an additional benefit to me. What a revelation :)
If you've chosen this perfect way to pamper your pooch you're not alone.
As it turns out, more and more pet parents feel the same and want to start making dog treats in their own kitchen. Not just to save a buck, but to make sure the treats contain healthy ingredients.
That was my main goal when compiling my easy dog treat recipes for this book.

Benefits of Homemade Treats
Making these easy dog treat recipes that your dog will love, has its benefits:

It's a great way to show some love and bond with your pet.

You'll know exactly what goes into the treats you'll be making for him, giving you a better handle on his diet.  You'll also find out what he likes the best.

Human grade all natural ingredients.

Great for training or just because!
So you'll be glad to know the recipes in my book are based on the same natural, high quality, wholesome ingredients you'd use when cooking for your family - heck Rover is one of the family!
Of course there will be the odd ingredient in a recipe that's not your dog's fave or he can't have for health reasons. In this case, you can easily swap it out for one on the Substitutes List included in the book.

So, don't hesitate, jump right in whenever you feel the urge to do some baking and have a "batch of love" ready for a drooling dog in a heartbeat!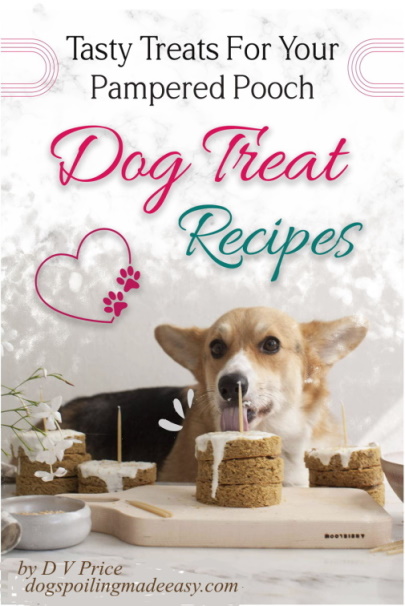 What's in the book:
Our Favorite 15 Wholesome Recipes
How To Make and Store the Treats
Flours and Substitutions
Grain Free Alternatives
Some Gorgeous Furry Friends!
Peace Of Mind Every Time
I've been baking for a very long time and I can tell you there's no substitute for the peace of mind you'll get knowing what's in the snack you're about to give your precious pup.
What's more, the recipes are very easy to follow and many of the ingredients may already be in your pantry.  Plus, you don't need to be an experienced cook.
In fact, once you make a batch of homemade treats and see how much your pet enjoys the results, you'll never look back and your pet will feel the love.
And if your pets have any kinds of allergies, you'll find lists of flour substitutions as well as grain free alternatives to make quick adjustments.
Homemade Saves Time For Busy Pet Parents
If you are a busy pet lover, you probably don't have much time to spend online sifting through hundreds of commercial dog treats to find the few that are healthy and safe enough to buy for your pet.
And yet, you do want to have nutritious treats available for your precious pup. Treats that aren't over processed, contain empty fillers, preservatives and even toxic ingredients your dog shouldn't have.
The Solution: Homemade Dog Treats where you are in control of what's in them.
This book offers you this easy alternative: All natural homemade easy dog treat recipes that are quick to make, healthier for your pet and can save you so much money over the packaged varieties. What's more, your dog will love them!
Tip: Make large batches of any of these favorite recipes and store them in the freezer. By doing this, you'll save oodles of time because you won't have to bake snacks again for a couple of months.
Freezer stored treats stay fresh and defrost in minutes so it's a great way to have something special available for Fido at any time, be it for training or just because! Your pet will feel the love.
Why settle for store-bought snacks when you can nurture your pet with these easy dog treat recipes that are fresher and healthier for your dog, in less time that it takes to go shopping.
Ready? Which recipe will you try first? If your pup has a favorite flavor, start with that, but try the other tasty ones too!  You might be surprised to find what appeals to your dog's taste buds and even more about what smells good to him.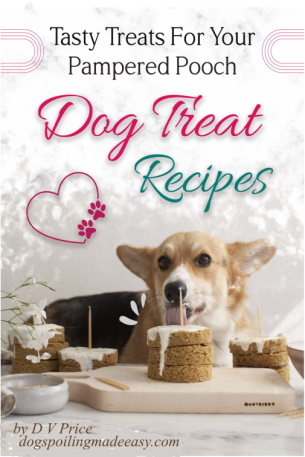 $9.95
This is a PDF e-Book that you can read on your computer, Kindle, iPad, Nook, Tablet, Smartphone, and most other devices. You can download your e-Book Immediately after your purchase.