Orthopedic Dog Bed
Our Top Picks

An orthopedic dog bed is a one of the most comfortable sleeping options a pet can have to provide a lifetime of ergonomic comfort as he ages.

Its inevitable that many dogs will experience arthritic problems, hip displaysia, or other joint related soreness - painful challenges that can be helped by a supportive bed.

That being said, a dog of any size, with or without any health issues, won't be able to resist the extra comfort that this type of bed provides.
Plus, for larger or heavier dogs, the extra thick cushioning provides more support without bottoming out.
Most of the memory foam dog beds are available in a variety of sizes, shapes and attractive fabrics. Generally, they have covers that are machine washable as an additional convenience.
The orthopedic pet beds we've selected are highly rated and specially designed with your pet's comfort and well being as the top priority.
They vary in price according to size and the depth of materials in the support cushion.

Big Barker Orthopedic Dog Bed
This high quality handmade bed is made in Pennsylvania, USA and is guaranteed to last for 1o years without flattening over that time period or the company states they will replace it. Pretty impressive!  Another great thing about the bed is that when your big dog comes home dirty, as dogs so often do, it's easy to clean, cover slips right off and into the wash it goes. Voila!
Big Barker beds are specially designed for big dogs with their own OrthoMedic foam. Big dogs have much more weight to support when they develop joint or arthritic conditions and these beds were conceived to provide the extra comfort they need.

The Big Barker beds are the inspiration of a dog named Hank who was a pretty special fur buddy of the company owner. Nice.

Ideal bed for very large breeds
Handmade in USA
7-inches American made superior therapeutic foam
Guaranteed support for 10 years
Four colors and sizes available
Microfiber cover is removable and machine washable
Blends in with any decor

Sizes (inches):
Large: 48x30x7
X-Large: 52x36x7
Giant: 60x48x7

Deluxe Sleeper With Bolster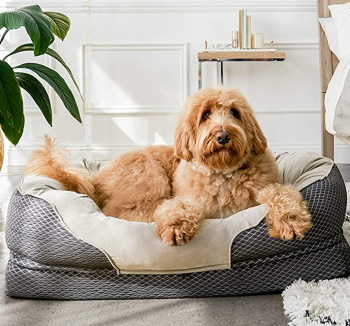 Irresistible comfort for any dog!
4-inch solid orthopedic foam base

Cotton-padded rim cushion to provide comfy neck support

Quilted modern appearance to enhance any decor
Cover zips off for easy machine washable care
Anti-slip rubber backing
High quality materials and design
Sized for small, medium and large dogs

Sizes (inches):
Small: 20x14
Medium: 32x22
Large: 40x30


The Dog's Bed Orthopedic Lounger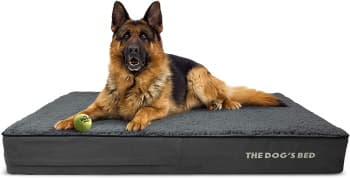 Provides maximum support for arthritic dogs - all others will enjoy it too!
Solid 2" premium memory foam over a solid 4" base of high stability support foam
Durable heavy duty nylon outer cover

Non-skid base

Machine washable interior and exterior covers
Wide choice of colors and sizes

Sizes (inches):
Medium: 34x22x4
Large: 40x25x6
X-large: 46x28x6
XXL: 54x36x6
XXXL: 64x44x6

CertiPUR-US Orthopedic Memory Foam

Plush comfort and attractive design

Overstuffed wrap-around bolsters with eco-friendly fill

Cushy soft sleeping surface
Supportive, non-toxic Certi-PUR-US memory foam cushion

Machine-washable cover

Inner waterproof liner

Choose from four sizes and three colors

Sizes: (inches)
Small: 25x20
Large: 36x28
X-Large: 44x34
XXL Jumbo: 5ox40

Laifug Jumbo Orthopedic Dog Bed Sofa
Got a big dog? Then this is the bed for him.
Your very large dog is going to love this bed and you will too when you see how well it supports his weight to give him a comfy night's sleep.  Suitable for breeds up to 200 pounds such as German Shepherd, Rottweiler, Doberman, Newfoundland, Mastiff, Great Dane, Labrador, Boxer, Golden Retriever, Husky, according to the vendor - plus it will retain 90% of its shape for three years or they will replace it, no kidding!

Hypoallergenic therapeutic memory Foam foam base for comfort and support
7" thick memory foam cushion
Comparable to high-end mattresses

Two removable and washable zippered covers
Overstuffed encased bolsters
Anti-slip base

Suitable for very large dogs

Size (inches):
50L x 36W x 10 Thick



Luxury Cluster Fiber Support
Hypoallergenic cluster fiber filled cushion that maintains shape

Eleven attractive fabric designs with decorative piping

100% cotton canvas

Machine-washable exterior cover

Extra covers available here
High loft breathable support


Sizes (inches):
Small:  22x27
Medium: 27x36
Large: 36x45

Small to X-Large Memory Foam Bed
Unmatched comfort and joint protection for dogs
Therapeutic gel infused temperature regulating memory foam

Microseude pillow cover for ultimate comfort
One bonus extra cover included
Cusion is resistant to bacteria, molds, mildews, and dust mites
Two colors: Brown and Khaki

Waterproof interior cushion cover
Covers are Removable and washable
Shipping included

Sizes (inches):
35x20; 37x27; 40x35; 41x27
47x29; 55x37; 55x47

Related Content
---

TOP