Life Jackets For Dogs
Keep Your Pets Safe Around Water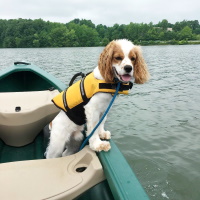 Life jackets for dogs are an absolute necessity if you and your dogs enjoy activities that include boating or water sports. And for that matter, if you just happen to live near water canals, lakes, reservoirs, rivers or streams!
Even though dogs know how to swim and many love to swim, they will get tired if they are in the water for very long or find themselves trying to swim in a strong current or undertow.

Your dogs may be natural water hounds and love doing their retriever thing from the lake shore, but there is a reason they make life jackets for dogs and that is to guard against the unforeseen random events that can occur even with the best dog swimmers.
Note: Don't miss the video on water rescue dogs.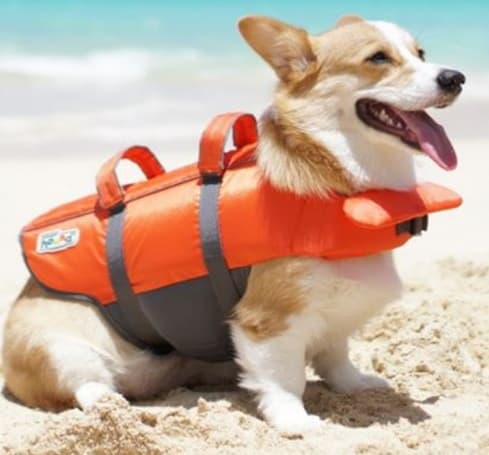 Outward Hound Granby Splash Dog Life Jacket
Features:
A very popular choice by pet parents
High visibility color to easily spot your dog
Excellent buoyancy to keep your dog's head above water
Dual top handles to pull your dog to safety in an emergency
Adjustable sizing and durable ripstop material
Very Affordable
You've no doubt heard the saying - if anything can go wrong, it will! So bear in mind, the majority of accidents usually happen when we're least expecting them.
Life Jackets For Dogs - Safety Considerations
Not all dogs are comfortable around water and may really panic if they fall in.
Senior dogs and those with handicaps would be especially vulnerable without a dog life preserver.
Small dogs may not have much natural flotation or stamina.
Dogs often jump in the water without warning if they spot something interesting.
You can't watch your dog every minute on a boat and even the best dog sailor could fall overboard.
Boat docks can be busy and hazardous places.
Boat decks can be very slippery and sudden swells can make everyone lose their footing.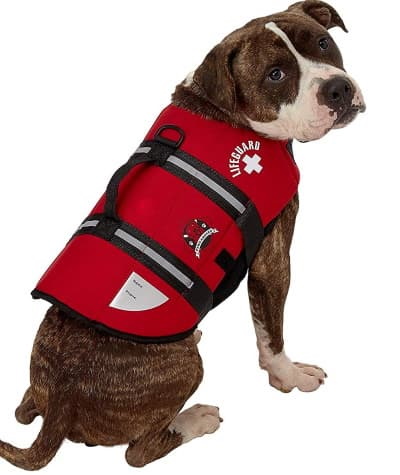 Paws Aboard Dog Life Vest
Features:

Quick-drying, breathable neoprene fabric
Buoyancy and comfort without bulk
Easy to spot bold colors and patterns
Six sizes with an adjustable collar
Very Affordable
Benefits of A Dog Life Vest
It's not uncommon for dogs to go along on boating trips during family vacations to wilderness areas. We love to take our dogs on adventures and have them share in the fun.

We just have to remember that safety comes first when we are in unknown waters.

So if Rover is joining the party, he has to have a life jacket along with everyone else. Having got that out of the way and before you board the boat, check its weight limitations so that you don't overload it.

If you are in an area where the water is cold, wear clothing to protect yourself against hypothermia as an extra safety measure.

In the event of an accident, you will be more able to help others if you are not getting overly cold yourself. And when it comes to Rover, life jackets for dogs also provide some insulation for them so that they don't use all of their energy to stay warm in the water.

Another important tip is not to tether your dog inside the boat. If your boat should capsize, Rover's chances of survival would be very slim tied to an overturned boat.



Vivaglory Dog Life Jacket With Extra Padding
Features:

Adjustable nylon straps for secure fit
Extra padding for more flotation
Easy to spot reflective bold colors
Durable upgraded ripstop oxford cloth
Strong Grab Handle
Five sizes and ten color/designs
90-day warranty
Dog Life Jackets For Camping And Rafting
Camping trips to idyllic settings beside a shallow stream may seem like a safe place to let your dog have a paddle. But you could be fooled.

Beware Hidden Strong Currents
Even innocent looking waters can have patches of dangerous undertow and a dog with a wet coat will have little buoyancy to fight a strong current. A dog life jacket or vest in this situation would for sure be his best lifeline!

If you like the more rugged sports of rafting or canoeing that often take you into rough waters and you want to take Rover along, please do it
s l o w l y.

Even if your dog has lots of stamina for land based fun, water sports are an altogether different matter. So you'll want to ease into these trips until you get to know his limitations.
Strong Swimmer or Not
Being that river rides are so much more challenging, there is no way that even the strongest dog swimmers can go along without dog life jackets.  It's just not an option.

You can't afford the risk of being distracted when you're dealing with the ever changing conditions and hazards on a river.

Even the most experienced navigator can have an upset - nuff said!
Life Jackets For Dogs - Choosing One For Your Dog
Here are some of the features you should look for in good quality life jackets for dogs:


Provides excellent buoyancy
Highly durable yet comfortable materials
Adjustable straps so that jacket can fit snugly
Handles on the back to assist in rescue
Provides warmth
High visibility neon colors
Easy to put on your dog
Easy laundering
Allows your dog to move freely in the water
Life Jacket Measuring Guide
Measuring your pet for a dog life jacket is an important part of the buying process if you want to have a better chance of getting the vest to fit the first time.

Take a look at the diagram below which shows the main areas to measure. You can then compare these numbers to the manufacturer's sizing.

Also. take into consideration the shape of your dog and the main areas where you want the jacket measurements to be a closer fit.

Once you get the jacket, check how it supports the head area while keeping the torso more or less horizontal in the water. And, most importantly make sure your dog looks calm, comfortable and stable while swimming in the jacket.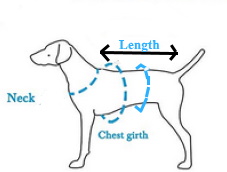 Did you notice the cute dog at the top of this page? Here is where you can get a dog life jacket like the one he is wearing.
It's a reflective, adjustable vest with enhanced buoyancy and a rescue handle. Made by Vivaglory with Ripstop material, the jacket comes in many colors and is designed with swimming boating and canoeing in mind.

Next time you go to the waterfront for some fun, you'll be glad you planned for Rover's safety by taking along a life jacket for your dog.
Before You Go...
Take a look at this video of water rescue dogs in Italy and notice that even these very strong swimmers who can pull more than 40 times their weight while making a rescue....are still wearing life jackets for dogs!  So awesome.

Related Dog Safety Topics
---