Hypoallergenic Dog Shampoo
A Natural Choice For Your Dog!
There are many good reasons to choose a hypoallergenic dog shampoo aside from the fact that your dog may have coat or sensitive skin issues.
One of the best reasons is that grooming products containing harsh chemicals are known to be potentially harmful to pets - as well as humans!
Another is that these chemicals are often the root cause of all that itching. So why wouldn't we want to avoid using them on our pets?
Grooming is an essential part of dog care and a well-maintained coat is healthier as well as better looking. It also provides a pet with more protection from all kinds of parasites. Not only that, most owners prefer the clean fresh scent of botanical oils and extracts that are found in natural dog shampoo.
Skin sensitivities or allergies are quite common among dogs. Generally these type of conditions are improved when pets are bathed with gentle shampoos that are ph balanced and do not contain irritating cleansers.
There is also a growing interest in products that have less impact on the environment.
Here are some excellent hypoallergenic dog shampoos, without phosphates and enzymes, and that are also biodegradable. Look for the one that best suits your spoiled dog!
Vermont Soap Organics




USDA Certified Organic Dog Shampoo
Contains organic coconut, olive and jojoba oils, organic aloe vera, and a combination of natural and organic essential oils.
Extraordinarily mild and hypoallergenic dog shampoo.
Contains no chemical detergents, synthetic fragrances, colors, or antimicrobial preservatives - reducing the possibility of sensitivity reactions.
The natural essential oil blend also helps to repel fleas and ticks without poisoning your pet.
Free shipping.
4-Legger Dog Shampoo



100% natural and certified organic
Soothes and moisturizes dry itchy, sensitive skin
A clean, safe bath without harmful toxins
No parabens, sulfates or anything artificial
Eco-Friendly, biodegradable, and vegan
Made in the USA
A gentle and effective hypoallergenic dog shampoo made with all natural ingredients. Includes the essential oil of Lemongrass a natural deterrent against fleas, and other organic oils to benefit sensitive skin and leave a fresh clean aroma!



Buddy Wash Shampoo And Conditioner, Rosemary And Mint



This botanical dog shampoo is formulated using coconut oil, vitamin E and C, aloe vera, natural herbs and oils, plus the calming effects of lavender and mint.
Provides a nourishing and non-irritating bathing experience for your pets.
Conditioner is included in the shampoo.
No harmful SLS and ALS chemicals or the drying effects of alcohol
Your dog will enjoy a soothing lavender-mint scented bath, free artificial ingredients and toxins.
Made in the USA
The Buddy Wash shampoo is also available in a slightly earthy fragrance of Green Tea mingled with the citrus scent of Bergamot.
These natural dog grooming products are brought to you by the company that makes the delicious organic Buddy Biscuits, that your dog probably already knows and loves.
Organic And Gentle Puppy Shampoo
Formulated with an impressive array of certified organic ingredients of the highest grade including herbs and extracts and oils that have been biodynamically farmed.

This organic dog shampoo is vegan and highly concentrated so you only need a small amount for your puppy's bath.

There are no synthetic ingredients, chemicals, sulfates, parabens or other questionable substances to worry about.
Your pet will enjoy the soothing effects of oatmeal protein, coconut and almond oil, along with many other beneficial organic oils and emollients plus vitamins and minerals.

For those who favor environmentally conscious products, you'll be pleased to know that the packaging is constructed with 100% eco-friendly and recyclable materials.
Make Bath Time So Much Easier For You and Your Pet!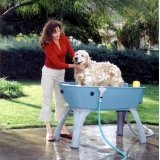 TropiClean SPA Lavish Shampoos



Purifying shampoo to offset toxins
Cleans gently and rinses out easily
Helps relieve dry, itchy skin
Soap-free and biodegradable
Highest quality, naturally derived ingredients.
Made in the USA
Luxury Spa Shampoo, this gentle dog shampoo is formulated with ingredients to keep your pet's coat fresh and looking its best. Made with Cucumber, Vanilla, Vitamin E, White Tea, Hydrolyzed Wheat Protein, Mild Coconut Cleanser, Pro-Vitamin B5, Oatmeal, Kiwi, Ginger.
This shampoo cleans deeply and gently without detergents and leaves the coat smelling and feeling great.!
Bodhi Dog "
Dry

" Shampoo



Bodhi Dog Waterless Formula
No harsh chemicals, parabens or sulphates
Lavender or Lemongrass fresh scent
Gentle, no rinse, coconut based cleanser
A beneficial formula that is ultra gentle for dry coats
Good for sensitive skin
Easy to use and great to take along on trips
Made in America with locally sourced and sustainable ingredients
Eco-friendly packaging
An easy to use waterless formula great to take along on a trip. Just a quick shake of the bottle, apply foam to dog's coat and massage all over. Leave in to air dry. In minutes your dog is clean and refreshed!
An easy to use waterless formula great to take along on a trip. Just a quick shake of the bottle, apply foam to dog's coat and massage all over. Leave in to air dry. In minutes your dog is clean and refreshed!

Certified Organic DERMagic Shampoo Bar



Handmade organic dog shampoo bar made in the USA.
Convenience of a bar for coping with wiggly pets!
No waste due to accidental spillage
Certified organic ingredients, no sulfates, rinses out easily and leaves a great smell
Recommended for sensitive pets prone to skin allergies
Tree planted for orders of ten bars
Earth friendly packaging
Rocco & Roxie Hypoallergenic Skin Soothing Shampoo
NO parabens, petroleum derivatives, sulfate or DEA
pH adjusted, skin soothing and gentle
Helps relieve dry, itchy skin
Contains oat extract, olive oil and shea butter for softness and moisture
Aloe Vera and Chamomile to gently relieve irritation
Made in USA
This hypoallergenic dog shampoo brings relief to your dog's dry coat or itchy skin with the natural anti-inflammatory and regenerating help of aloe vera and oatmeal.
Rocco & Roxie also contains nutrients to moisturize, soothe, and nourish your pet's skin.
Gets rid of your dog's itching and leaves the coat silky and smelling great!
Earthbath Hypo-Allergenic Dog Shampoo
Earthbath dog bathing products have delightful natural fragrances and are designed to be as gentle as possible. Ingredients are formulated to be extra soothing to your pet, restore moisture to his skin and leave him smelling great!
Soap-free, non-toxic and ph-balanced for a pet's sensitive skin
100% bio-degradable, free of phosphates and enzymes
Contains natural oils and essences
Recommended for pet's with skin issues
And, according to the company, people tested and pet approved
Ultra-Mild Puppy Shampoo and Conditioner



Extra gentle, "no tears" puppy shampoo
pH balanced mild natural cleansers
For all pets over 6 weeks of age
A shine enhancing conditioner great for dogs with sensitive skin
Alleviates tangles while enriching and reviving a pet's coat
Contains colloidal oatmeal to re-moisturize and soothe skin too
100% Bio-degradable and made in the USA./li
Will leave your pet's coat soft, rich and luxurious and bring out its natural luster and brilliance. This mild natural dog shampoo is safe for your young puppies, as well as older dogs, cats, and kittens once they are over the age of 6 weeks.

Pro Pet Works Organic Shampoo And Conditioner



Hypoallergenic dog shampoo, soap free, pH balanced
Conditions and moisturizes
Formulated for pets with allergies and sensitive skin
Relieves dry itchy skin and leaves it clean and fresh
Soothing and gentle with organic natural oils and aloe
No toxic chemicals, No artifical fragrances or colors
100% refund guarantee
A natural organic dog shampoo and conditioner containing almond oil and aloe vera.

Plus, the gentle formula results in a soft, shiny and smooth coat - just the way a spoiled doggie should look!
Related Products To Consider
---