Dog Grooming Tools
How To Set Up Like A Pro
Choosing the right dog grooming tools is the key to making grooming your dog at home an enjoyable, rewarding and pleasant experience for both you and your pet.
Although you most likely won't be needing to bathe Rover every week, the daily grooming routines are essential to keep up your dog's healthy and smart appearance.
Basic Dog Grooming Tools
For this you will need a variety of dog grooming tools in your arsenal. The type and length of a dog's coat is the starting point for selecting the appropriate supplies. Coats fall into a few categories such as: wire, smooth, drop, crisp or hardly any etc. Here are some of the basic grooming tools:
Everyday boar brushes
Pin brushes,
Slicker brushes
Steel combs of different sizes
De-shedding tools
Clippers
Mat splitters

These tools will take care of most issues such as mats, tangles, excess undercoat and trimming.
Follow along with the recommendations below and you'll have some of the best dog grooming tools at your fingertips to get the job done.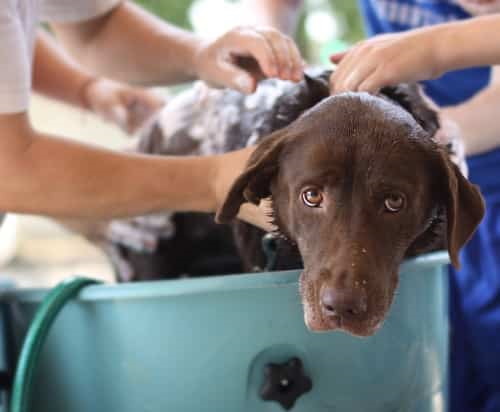 Dog Grooming Tools For Bathtime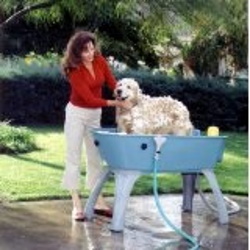 Make Rover's bath time a whole lot easier and quicker with Booster bath. You'll get the job done a whole lot faster standing up instead of bending over a tub.
The booster bath has a convenient collar system to keep your dog in place as well as a handy Booster Bath nozzle to vary the water flow. Legs are detachable for easy storage.
An alternate to the dog bath is the dog shower. This one by Waterpik has a generous thirteen-inch wand shape providing for full dog coverage plus an 8-foot flexible hose.
It easily attaches to your indoor shower or can be used outdoors connected to a convenient garden water faucet.
If your dog tends to get easily stressed (and maybe more so at bath time), don't despair. Comfort Zone could be a big help. Try these plug-ins that release a pheromone-like substance known for calming dogs safely and naturally.
Put one in the grooming area to set up a calm environment, or in the room most frequented by your dog. Available also in a spray for beds and crates.
Tools For Coat Care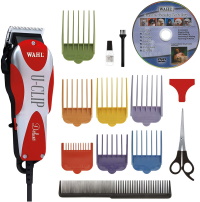 If you're planning to try grooming your pet at home, high quality clippers are a must have in your dog grooming tools
This very popular kit on Amazon has over 7,000 reviews and will give you the confidence to give a full coat cut or in-between trimming. The 16-pc. set includes everything you need plus a step-by-step instructional video for the complete dog clipping solution.
It's very easy to use, has a 2-yr. warranty and is made in the USA.
Groom like a pro right out of the gate and be dollars ahead over taking Rover to the salon.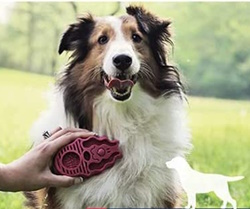 Your dog will welcome brushing time with the Zoom Groom made by Kong. Not only will Rover get a delightful massage with it, you'll keep his coat free of loose hair - that means it won't wind up on the couch!

Among my dog grooming tools, this one has always been a favorite. Use it for both daily brushing and for bath time.
When two are used together, lathering up your dog becomes quick, easy and thorough.
It's available for long or short coats with different sensitivities for puppies and adult dogs.
Try it and see!


Chris Christensen Oval Pin Brushes

Superior show dog quality brushes suitable for a variety of coats. These oval brushes have polished stainless steel pinheads that won't scratch your dog's skin or cause breakages.


Chris Christensen Mark III Slicker Brush
 These high quality slicker brushes are suitable for short and
 long haired dogs. Great for removing dead hair in the coat as well as de-tangling mats. Comfortable and easy grip. A slicker brush leaves a very shiny and neatly groomed coat.

Chris Christensen Buttercomb
Your dog will thank you for using this fabulous comb - it will glide through his coat like none other. Well, next best thing to butter! Made of top quality brass and nickel with both coarse and fine teeth.
De-Shedding Tools


FURminator deShedding Tool
From personal experience it easy to understand why this is one of the most popular dog grooming tools to deal with shedding.
Its revolutionary design will keep your dog and your home free of dog hair fall-out for weeks. A great help for people with allergies!

Rubold Dematting Rake Tool
Sometimes you'll need to get to the
heart of the matter
- excuse the pun - when your dog has acquired a few mats.
You can make the job a lot easier on Rover and yourself if you sort them out prior to bathing with this efficient mat and undercoat remover tool.

DakPets Dog Brush
Another popular contender in the shedding tools department - judging by the reviews. This brush is also guaranteed to get the job done in minutes on dogs and cats of all sizes and coat types.

If it's as gentle as described, you can use it on a regular basis, without irritation, to help keep your dog's shedding under control.
Drying Helpers


Soggy Doggy Super-Absorbent Pet Towel
Made of 100% MicroFiber-chenille - more absorbent than cotton. Picks up moisture and grabs hold of shedded pet fur and dander.

Water-LESS Pet Bath Towel - As Seen on TV
Get your pet clean and effectively remove dirt, grime and dander with this unique pet bathing towel. No need for shampoo, just dampen the microfiber towel and go to work.
This super-duper, fast-drying towel is great for pets that hate a fully wet bath, or can be used in-between a full soak in the tub!
Wring out and use again, even when damp, or machine wash as needed.

Air Force Commander 2-Speed Dryer
Make Rover happy by getting him fluffy and dry in no time at all with this lightweight dryer made especially for pets.
Cuts drying time by two-thirds with air flow control and concentrator that considerably speeds up the drying process. Gets the job done without
drying out
your dog's hair and skin.
Finishing Touches



The Stuff Conditioner & Detangler
A nice
leave-in
hypoallergenic spray that conditions your pet's coat in between baths while repelling dirt and also keeping the tangles at bay. Great finale for a grooming session, or to use daily for long lasting results.
Doggie Pedicure
- Every dog needs to get his nails done from from time to time. Once you learn how to do this safely, here's the dog grooming tool we recommend for the job:

Safari Professional Nail Trimmer
This is the one, over 4,000 reviews speak for themselves. Designed to be ergonomically correct, requiring less pressure to get the job done with confidence.

Non-slip grip for extra safety.

Now... if you or your dog are real scaredy cats, get a dremel!



A Little Added Protection



Neem Protect Spray
The natural botanicals in Neem, proven over time to discourage insects, will provide natural protection for Rover from the biting family of critters while at the same time helping to soothe any skin irritations.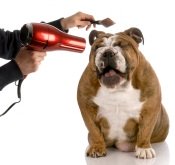 Related Pages:
---