Bearded Collie
A Very Entertaining Family Dog!
The Bearded Collie was once known as the Hairy Mountain dog, and later as the Scottish Bearded or Highland Collie. His genealogy is somewhat cloudy, but it is speculated that he is from the same stock as the Old English Sheepdog and the Polish Lowland Sheepdog.
And although he bears a strong resemblance to the Old English, he is slightly smaller and thinner and has a body length greater than his height.
The Beardie, as he is popularly called, is a breed of some vintage, being known for his herding and droving skills in the Scottish highlands since the 16th century. He is a hardy dog possessing both considerable power and agility.
The BC has a fun, inquisitive, and shaggy looking appearance, which may account for his popularity in the entertainment media.
His stardom includes roles in the Disney film The Shaggy Dog Story, the Agent Cody Banks movie, the television series Please Don't Eat The Daisies, as well as being featured in the Land's End Catalog in 2001.
The Beardie may also have been the dog seen in The Brady Bunch sitcom.
Physical Stats And Care
Height: 20-22 inches
Weight: 40-60 pounds
Color Variations: Black, brown, blue, and fawn, with or without white markings.

The Beardie has a flowing and abundant double coat that is weatherproof. Regular brushing is needed to maintain this beautiful coat, as well as keep it free of mats and tangles.
A popular grooming tool you won't want to b e without, is the FURminator DeShedding Tool.

Neglecting this type of coat could turn into your worst nightmare!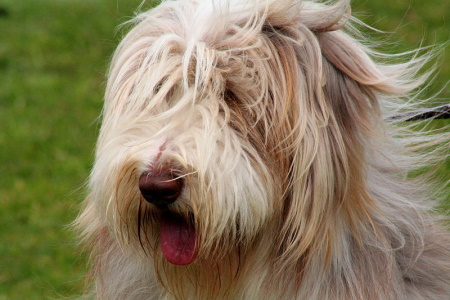 Bad Hair Day?
Characteristics of the Bearded Collie
If you're looking for an ideal family pet, this breed would be an excellent choice.

He is charming, sociable, exuberant, affectionate and playful. He is also very entertaining and responsive to people, while at the same time he is an independent thinker - heck, he didn't get to be a world class herder without being able to make decisions!


An owner does need to establish a strong leadership role with this breed, otherwise he can become manipulative and dominant. On the plus side, a dog this intelligent is very trainable.


One of the best ways to approach training with a Beardie, or for that matter any dog who has a strong independent streak, is through praise.
Get the praise going with small stuff and go from there. They are very smart and given enough praise, will really amaze you with what they can learn.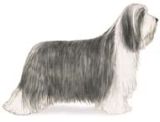 How Active is the Beardie
Be forewarned, Bearded Collies need a considerable amount of exercise. They are naturally active dogs.

In addition to the minimum daily walk, an opportunity to run off leash would be ideal. A big back yard for play times would serve them well and be enjoyed.
Ideal Living Space
Does best in home with a good size yard. This breed loves the outdoors, no matter what the weather. Remember they thrived in Scotland!

He is very adaptable to sleeping in an outside doghouse if that is your choice.
The Bearded Collie With Children?
A herding breed has the innate instinct to round them up and go after the ones that get out of line! So the Bearded Collie is probably better off with older children who can respect his duties.

As with any breed of dog, it pays to err on the side of smart and have an adult around when pets and children are interacting.
Senior Or Sedentary Families?
While this collie does very well with almost everyone, senior owners or sedentary families, need to take into consideration the exercise needs which are very important and have to be maintained.
The ideal is to have a yard or large fenced play area available, plus someone available for daily walks.
Recommended Books
An up-to-date reference guide including expert information on selecting a puppy, behavior and health concerns, positive-training methods, socialization and avoiding puppy problems, house-training, obedience, and comprehensive healthcare.
Dr. Pitcairn's Complete Guide to Natural Health For Dogs And Cats
A highly recommended resource for every pet owner!
Read This Excellent Book In Paperback Or On Your Kindle
Resource: The Bearded Collie Club of the US

---
Bearded Collie portrait: https://commons.wikimedia.org/wiki/File:Bearded_Collie_portrait.jpg?uselang=de