Welsh Springer Spaniel
A Well-Mannered Sporting Dog!
The Welsh Springer Spaniel has been depicted in paintings created 1000 years ago, but his actual history dates back even further, to 7000 BC. For the past several hundred years he has been bred as a flushing spaniel, in Wales.
The Welsh Sheep Dog and the Corgi have been suggested as breeds that may have contributed to the spaniel's development along with Cocker Spaniels.
Possessing an excellent sense of smell, the Welsh Springer Spaniel is known to be a hard-working, tireless and efficient hunter of game and can do his job on both land and in water.

Prior to their acceptance into the English Kennel Club, they were known as Welsh Cockers and at one time were used for driving and herding cattle.
With a compact and symmetrical body, the Welsh Springer Spaniel is of medium-size, a bit smaller than the English Springer and a completely different breed.

He is built for endurance and has a strong muscular body to support the quick "springing" action and tireless persistence he demonstrates in his work.
Physical Stats and Grooming
Height: 18-19 inches
Weight: 35-45 pounds
Coat Color: White, with rich red markings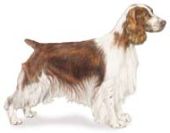 His beautiful coat is straight, flat and silky with attractive markings and some feathering.
To keep the coat looking its best, brush him two to three a week minimum. In addition, check and remove plant material that may be picked up on walks, and inspect the ears regularly for any signs of trouble.

A slicker brush along with a good quality bristle brush are recommended grooming tools to have handy. Give a wet or dry bath as necessary and keep the paws trimmed of hair between the toes, and nails clipped.

Because of their tendency toward eye problems, regular eye inspection and cleaning is a must to promote the best eye health

During seasonal shedding, more frequent attention should be given to the coat. One warning: avoid using clippers on the coat if possible as it will ruin its natural state and beauty.
Health Notes
Overall the Welsh Springer Spaniel is a fit and healthy dog, but there are a couple of more significant common dog health diseases which may affect the breed.

Those issues include:
Eye disorders such as glaucoma, cataracts, and entropian

Epilepsy, which reportedly affects about 6% of the breed, seems to have more pronounced symptoms in this breed and as a result may be more difficult to treat successfully.

Other more general canine issues include:
Hip and elbow dysplasia, and
A predisposition toward ear infections.
Owners are definitely advised to have regular veterinary examinations, especially to look out for the more serious diseases indicated.


Personality and Traits
The WSS is a high spirited dog. He has been described by owners as being a great family pet and a very polite dog with a cheerful and kindly disposition.

He is a pet that loves to be at his owner's side and involved with family activities. That being said, he can also be somewhat independent and for this reason, early training and socialization is recommended.

Good results can be achieved when owners demonstrate strong leadership, but never use harshness in their training sessions.
A calm dog by nature and possessing a healthy suspicion of strangers, he makes a good watchdog.
How Active is the Welsh Springer Spaniel?
The Welsh Springer Spaniel is a very active dog best suited to a family that enjoys a more vigorous lifestyle.

He needs a lot of outdoor exercise, including some time running freely, to keep him mellow and satisfied. Makes a great jogging companion if you are so inclined!

Without sufficient exercise, he can become a little naughty!
Ideal Living Space
Not being known as a barker, he can do well in apartment if he gets a lot of exercise.
However, from an owner's point of view, access to a medium-sized yard will provide more convenience and a play area for the dog's enjoyment.



Good With Children?

The Welsh Springer Spaniel has a love of children and is both gentle and affectionate.
However, we would suggest he is better suited to a family with older children who can help out with his daily exercise.
Companion For Seniors?
The WSS loves companionship and may do well with senior owners if they are very active, or can arrange for a good amount of daily activity.
Otherwise, not recommended for more sedentary. families.
Share Your Knowledge and Pictures
Do you have a Welsh Springer? If you do, we know you must be proud to own this rare and classy dog breed. Plus you have the "insider" knowledge of what he's like to live with!

We would love for you to share your dog's pictures and his story as well as your knowledge about the breed in general.

You can upload photos and tell your dog's story here. For inspiration, read some of the stories already submitted by other breeds.
Further Resources

WSSCA    Welsh Springer Club of America, Sanctioned Member Club of the AKC


Welsh Springer Spaniel
Very useful and interesting book for new and seasoned owners. Excellent and detailed information on the history of the breed, as well as grooming advice with pictures, health issues, and breeding.

Dr.Pitcairns Complete Guide To Natural Health For Dogs and Cats
Dr. Pitcairn's book is one of the most trusted references for natural pet health care.
Anyone who is interested in the holistic approach to natural healing as well as chemical-free nutrition for their pets will find this book invaluable.
Also, conveniently, available to read on Kindle.


---