The Indoor Dog Potty
A Training Aid That Offers Flexibility!
The indoor dog potty can be a lifesaver when you are dealing with dog house training. Even though your ultimate goal may be to have your dog relieve himself outside, there are many reasons to consider these dog training aids.

For example, what if you have to train a puppy or dog in the middle of winter? Who wants to trudge outside ten times a day in the cold weather - now be honest!

The indoor dog potty can also be a bridge until your dog has adjusted to his new family life, or is more mature and ready to make the transition to going outside. For you, the advantages are obvious - avoiding those outdoor chilly adventures.

So let's get to it...
Fresh Patch Grass Indoor/Outdoor Dog Potty
Fresh Patch
Avoid accidents and make house training easier with the Fresh Patch Dog Potty with Real Grass  - an effective and more natural solution to house training dogs.
This special hydroponically cultivated grass doesn't contain dirt but has a ultra strong root base which is highly absorbent and diminishes odors.
Dogs take to this indoor dog potty easily because it has real grass which is very familiar terrain to pets.
Features:

No more mess - clean and fully disposable
Great for puppies, older or frail pets with incontinence
Real grass avoids confusion during training
Specially grown grass neutralizes odors
Sturdy leak-resistant container
Replacement grass sent on chosen schedule
No Paw Tracks
Eco Friendly and completely disposable
Perfect for Condo balconies or small patios

The Fresh Patch potty comes in three sizes: Mini - 16" x12"; Standard - 24" x 16"; and Large: 24" x 24". Two units can be joined together for a larger dog.

Klean Paws Indoor Potty For Pets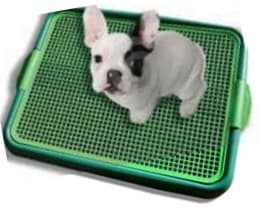 Klean Paws
Klean Paws, is an indoor potty for pets that many dog owners find helpful and convenient when house training their dog.

Make no mistake, training a pet to go outdoors for his dog biz is a process!

And, there will be times when the dog just doesn't want to go outside!

But don't worry, your dog's progress won't be sabotaged if you've got an in-house option in place.
Features:

Pet urine flows through the grate into pad below, keeping your dog's feet dry. Solid waste settles on top for quick removal into a recyclable waste bag - mess free.
Pee pads or newspaper remains securely beneath the grate and out of a playful puppy's reach, so they will last longer.
Perfect for small dog breeds, puppy training, and aging pets with bladder control problems.
Quick and Easy to clean.
Reasonable price to fix a headache!
Outside Dimensions: 21.5 inches; (L) x 16.5 inches; (W) x 1.25 inches (H)
The Klean Paws Indoor Dog Potty will not only keep your dog's paws dry, but will keep your house dry, just the way you and your puppy prefer it.

With a 30-day 100% satisfaction or money back guarantee, there's nothing to lose to give it a try!
The Road To Successful Potty Training
Outdoor potty training takes time - usually at least six months. Will your carpets survive? Will you?

Ideally, you want to start your relationship with your dog on a positive note and have more reasons to praise than to scold. Dogs are quick to pick up on negative vibes.

An indoor potty will give you more opportunity to praise your dog, as well as reduce the number of accidents.

Petsafe PET LOO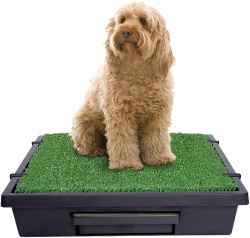 Pet Loo
The Portable Pet Loo is another convenient indoor house training solution and a lifesaver for those times when when a pet's mobility is restricted by his age, by being unwell, or recovering from a surgical procedure.

A Portable Loo may also be the ideal solution for working owners of small pets who have no choice but to leave their pup at home while they're away.
Features:

Dog potty containment system for indoor and outdoor use
Drainage system channels waste away from surface and keeps unit dry

Waste reservoir and special powder keeps urine odor free
Slide out reservoir for easy cleaning. Powder turns urine to gel.

Artificial grass can be removed and rinsed off with water

Three sizes for Small, Medium or Large dogs
Attractive design


The Pet Loo potty lets Fido take care of business without getting into trouble. Perfect for condos, apartments, decks, patios, indoor areas and anywhere else space is not available for dogs to go potty at their leisure. Includes drainage system and concealed trap pan for easy, safe and sanitary clean up.

When you need to find a housebreaking solution for your furry friend and have run out of other options, this successful system comes at a reasonable price. Plus there's a size to fit every breed of dog.
Potty training a pet is a very important part of living with humans so we want to give it the attention it deserves. But family life must go on - kids, jobs, social engagements, and other responsibilities.

Indoor dog training - sometimes referred to as litter box training, may be just the ticket to keep the stress level low for some dog owners.
Petmaker Portable Dog Potty
Potty Trainer
The Petmaker Potty Trainer is a three layer system containing antimicrobial and odor resistant artificial turf.

It is great for puppy training, or for anyone who may be unable to take their dogs outdoors several times a day. It's also a good choice for training a rescue or for elderly and handicapped pet owners.
Features:

Indoor and Outdoor Use
Antimicrobial and Odor Resistant
No Pads To Replace
Realistic Synthetic turf, safe and non-toxic
Rinse and wash with soap and water
Dimensions: 20 x 25 x 1.25 inches
The Petmaker Portable Dog Potty features a unique surface of synthetic turf, which is safe for your pets and non-toxic.

Dogs don't have to step up, or on to a Platform. The Petmaker system is almost level with the ground. It is a perfect lightweight solution for boats, recreational vehicles, apartments, high-rise buildings and cold weather climates.
Why An Indoor Dog Potty May Be The Best Choice
For Your Dog And Your Lifestyle
Here are some things to consider:

Is your work schedule very erratic whereby you can't stick to a regular routine with your dog?
Do you live in a climate of extreme variation where trips outside are not attractive to you or your pet?
Has your dog learned to cross his legs and hang on until you get home from a social evening?
Do you live in a condo, apartment, high-rise, or city environment that limits your outdoor walks?
Are you interested in providing an alternative to an older pet that has become incontinent or has less bladder control?
And a few more thoughts...


Do you sometimes travel overnight and could use the convenience of an indoor dog potty so you can take your dog with you?
How about a dog potty for your boat?
Has your mobility changed and you can't take the dog out as often as you once did?
Would you like to train your dog with a dog potty "outside" to spare dog urine damage to your lawn?
Do you have a pet recovering from an illness or surgery that could use an inside toilet for a while?
Indoor dog potty training will remove the anxiety your dog may suffer trying to control his bladder when you are late getting home.

Without question, this potty product is a boon for apartment dwellers, or owners with dogs that sometimes have to be alone for extended periods. Some even like the convenience of having one for both inside and outside use.

Most dogs seem to have no trouble learning to use the indoor potty systems, especially if an owner starts their dog out with one right away and sticks to the tips recommended by the manufacturers.
Related Topics