Flying With Dogs?
Here's What You Need To Know
Flying with dogs has become quite acceptable and commonplace in today's modern world.


Whether you're moving across country or just off on vacation, you'll be free to discover many more horizons when you travel with you dog by air.
And, don't worry, your dog will be well-attended to along the way even if they travel in cargo space.

Although flying with dogs does require a little more advanced planning,
most airlines have extensive information on their websites to help you prepare. 
Pet travel requirements vary from state to state and internationally, but in most cases health certificates are needed.

Flying With Dogs On Domestic Flights

If you have a dog that is a miniature breed, they can usually travel with you in the cabin on domestic flights. But bear in mind that the airlines only allocate a small number of spaces for "in cabin" pets on each flight which get snapped up early, so it's wise to plan ahead.
Also, to travel in the passenger area, your dog must be small enough to travel in airline approved dog carriers that fit under the seat in front of you.


This extremely popular Sherpa pet carrier has an impressive guarantee that offers to reimburse flight costs if you are denied boarding when using their carrier!
It comes in three sizes, designed to fit pets in a weight range from 8 to 22 pounds. Check the "guaranteed on board" details here. 
The size and total weight of carriers permitted does vary between airlines, so this is important information to verify with your chosen airline.
Flight Rules For Air Travel With Dogs

During the flight, your dog is not allowed out of the carrier.
Rover's meals should therefore be planned well ahead of flight departure to allow ample time for him to take care of business prior to boarding.
Larger dogs can fly with you on the same flights, but they must be housed in the cargo area.  And, they are also required to be in airline approved dog crates.
Crates traveling in cargo space must be non-collapsible and ones in which the dog can stand up, turn around, and sit erect without touching the top of the crate.
The crate must also have food and water receptacles that are accessible from the outside.
For domestic travel you will find very comprehensive airline information about flying with dogs at delta.com.

Make A Flight Reservation
With Travelocity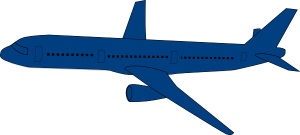 Air Travel With Dogs - International
British Airways is my personal choice for flying with dogs if your destination is within their routes.
They have years of experience transporting pets and their passenger service is excellent. You can make your reservation through Travelocity (see form above) and receive Special Savings on Travel, plus they have great last minute deals!
When going overseas, be sure to contact the nearest Embassy or Consulate General office for each country on your itinerary at least four (4) weeks prior to departure to get the most up-to-date information for bringing pets into their country. EXCEPT....
In the case of travel to Europe, your dog will have to meet the requirements of the Pets Travel Scheme. Under this program, you will need to plan your trip in advance to allow sufficient time for steps that must be completed by your Vet, but don't worry, it's not difficult.
Full details of this procedure are available at the airlines and most vets are familiar with the requirements. You can also find detailed information here.
Make An Hotel Reservation
With Travelocity


Although flying with dogs by air domestically or abroad requires a bit more pre-planning, it's really not difficult. People with show dogs do it all the time.
On a final note, if you have a dog that doesn't enjoy traveling, consider hiring a pet sitter so that he doesn't have to leave his familiar surroundings while you're gone.
If you'd like even more information about taking trips with your pet and flying with dogs, here's another website that covers the topic very well - pettravel.com..

So what are you waiting for, break out the travel maps and let your dog point his paw at a vacation destination!
Flying With Dogs - Related Topics


TOP