Dog Seat Belts, Harnesses, And Carriers For Rover's Safety

Dogs love car rides! So it follows that dog seat belts, small dog car seats and carriers, canine harnesses, pet barriers and the like are must-have items for canines who wanna be traveling hounds.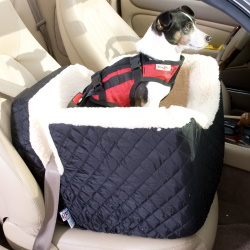 Safety Car Seat
Taking Rover along in the family wagon is a natural thing to do because you know your dog loves it. But, just to make sure that everyone enjoys the ride, "buckling up" is a must.
And more to the point, when your dog has his very own dog seat belt or, your smaller dog has a dog car seat, it adds to your safety too!

Another great help for your dogs that goes hand in hand with seat belts are pet ramps or doggie steps to make sure your dogs doesn't have to jump to get into a vehicle and avoids potential injury!

Soft Padded Leash Harness
with Travel Strap
Have you ever noticed how much most dogs love to take a spin, breeze blowing in their faces, ears flying... it's a magical thing to see. Joy riding seems to have an extra special meaning for the canine persuasion.

Dogs make wonderful companions on a drive too. They're good listeners. If you want to get something off your chest, they give you their full attention and don't interrupt!

They also don't try to change your favorite radio station!


Dog Seat Belts - Why Your Dog Needs One
So to make car rides the most fun for you and your pooch, whether you have a small pup or large dog, car carriers and seat belts are a must.

Keep your dog, and everyone else, safe while riding in the car with the dog seat belt shown above. Your dog will still have the freedom to sit or lie down and the harness can also be used for doggie breaks along the way.

Dogs love to check things out as they ride along and sudden stops are hard to predict. Without a dog seat belt or dog car harness, your precious pooch could get thrown off balance or in the worst case, out the window!

Car Hammock with
Seat Belt Openings
Getting hurled through the car at high speed wouldn't be a pleasant experience for your best friend, either.

Plus, anything that takes your eyes off the road - even for a minute - can spell big trouble for both you and your Rover. But, when your dog is safely secured in a seatbelt or behind a dog car barrier, you can concentrate on your driving and the traffic.

A versatile, multi-purpose car seat suitable for your small dog, can be taken out of the car and used as a roll-about or even a back pack. Plus, small dogs will love the "designer" look!
Seat Belts Keep Passengers Safer
A playful pooch moving around the car from window to window, can be very distracting to the driver, or he may even jump in your lap and bump the controls. It only takes a moment's inattention for an accident to occur!

"Kurgo Leash and Zipline
Car Restraint
With much convincing evidence to show that seat belts have made driving safer for automobile passengers, most of us have willingly buckled up our kids and ourselves.

So it's natural that we would want to protect our pets also, knowing that a dog with his own dog seat belt is a win-win situation.

Seat Belt Options For Your Dog And Vehicle
If you have a very small pooch, there are some other options for you over at small dog carriers.
Depending on the size of your dog and your vehicle, different types of restraints, harnesses, dog seat belts and small dog carriers are available to meet your dog's needs.

Car Harness With
Connector Strap
Or you may want to consider separating the rear portion of your vehicle with car barrier to section off your pet with his own space as an occasional alternative to seat belts.

This is a good way to assure that your dog is safe while on a short drive or long trip. You'll be able to keep an eye on your dog and he can have plenty of room to lie down or look out the window. With an attractive modern design, you may just want to leave it in place for everyday convenience.
Dog Car barriers are also useful if you have to crate a sick or injured dog on the way to the vet. And, the sectioned area can be covered with washable bedding and protective floor covering to make clean up easier.

Kurgo Car
Pet Booster Seat
Whatever you decide, by buckling up yourself and your dog, the ride is bound to be a lot more relaxing and safer. At the same time, Rover won't be missing any of the fun that can be had on a ride.
Safely secured with dog harness or seatbelt, the window can be rolled down enough for him to enjoy the breeze and sniff the interesting aromas that come his way.

Chances are, your dog will be happy to wear his seat belt if it means you'll take him along more often.... It's so much better than staying home alone!
---