Briard Dog Breed
He'll Herd You Out The Door
To Get A Walk!
The Briard dog, known also as Chien Berger de Brie and the "dog of the grasslands", originated in the Brie district of France and is descended from an ancient breed of sheepdogs dating back to the eight century.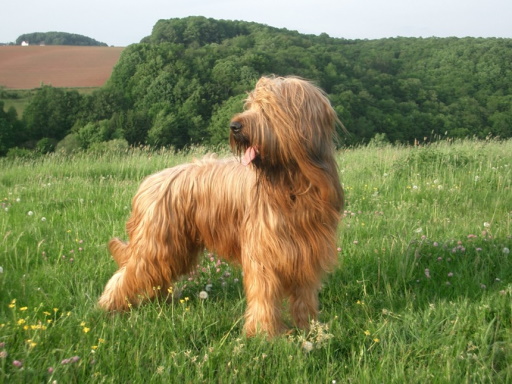 Courtesy Jtreier
Their main function was as a herder and protector of sheep against wolf attacks and poachers.
Subsequently their talents were utilized in World War I, as assistance dogs to the Red Cross, and further in search and rescue assignments, as well as police related work.
In addition to their working abilities, they are are esteemed companion dogs.
The precise history of this breed is unclear as no records appear to have been kept during the period of its long nomadic existence following the herdsmen across the countryside.
Characteristics of the Briard Dog Breed
This dog is a herder de jour and will try to herd everything he encounters in his life, including you! He needs a lot of attention, but gives back more love and devotion than he receives. They are not a dog to be left outside, but flourish as a loving house dog that can be constantly at your side.
Briards are protective and naturally suspicious of strangers or unusual situations making them good watchdogs.
At the same time, this natural reserve can be detrimental as they grow up. For this reason, it is very important that they are well-socialized for the first two years of their life beginning at puppy-hood.
This should include not only puppy classes, or different people, but to a wide variety of situations and every day events.
Courtesy Hellweg, Wikimedia
A dog of this size needs an experienced owner who is familiar with sound training methods and who is able to exhibit strong leadership without harshness.
The domesticated Briard dog is clever and still retains a degree of independence, carried over from his herding heritage. This can translate into a bit of stubbornness and dominance which the owner must counter with on-going and consistent training that includes rewards for good results.
One thing about Briards is that they have fantastic hearing, so you won't need to shout your training commands!
Among the facts a prospective owner must consider before getting a Briard dog is that they require a lot of your time - as a companion, as a dedicated groomer, and as a dedicated trainer.
If you are happy to fulfill all these roles, then you'll have a wonderful relationship with your dog.
Physical Stats And Care
Photo: EJ Gouda
Height: 22-27 inches
Weight: 74-76 pounds
Color Variations: Black, grays, an tawny, but not white, although some white on the chest is permitted.

The Briard is a handsome muscular dog, both sturdy and agile. He has an tousled, yet intelligent, expression coupled with a charming buoyant demeanor.
The Briard dog has a lot of coat! It is rough, dry-textured, slightly wavy, with both an outer and under coat and is about 4-6 long. It has been referred to as goat-haired.

Maintenance is considerable - at least a couple of hours per week to get rid of loose hair, keep mats and tangles from taking over and keep the coat looking its best. Hair should also be kept trimmed on the feet and inside the ear flaps.
In addition to the specific coat maintenance, this dog needs daily clean up of their facial hair which gets messy and wet from eating, as well as the rest of the coat which has a tendency to pick up every bit of foliage and dirt when they are outside.

An invaluable grooming tool, that gets high praise from dog owners, is the FURminator DeShedding Tool.
Activity of the Briard
This breed has a lot of energy and stamina!
Although they may seem content to just follow you around the house, they will be a much more contented dog with a regular exercise routine that includes significant daily walks.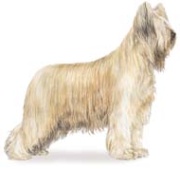 Ideal Living Space
This dog needs a fairly big yard in which to romp and play. However, once his outdoor play and other needs are met, he does best if he can be inside the house the majority of the time!

They can do okay in smaller accommodations providing they get sufficient exercise.



The Briard With Children?
The Briard dog has a good reputation with children, but some have too much energy and liveliness for young kids. And, because of their size they can easily knock down a small child by accident.
To be on the safe side, all interactions between pets and children should be supervised by an adult.

Senior Or Sedentary Households?
Providing sufficient exercise can be had, this very affectionate breed can be a good companion even in sedentary environments.
However, for some seniors its size and strength may be too much.
Tell Us About Your Briard Dog
Calling all Briard dog owners. If you share enjoy life with one of these rare and ancient breeds, we would like to hear from you. Please come and share your dog's story as well as your first hand knowledge of this delightful breed?

We love dog stories and pics, so we've made it quick and easy for you to brag about your dog with us and our visitors. You're invited to go here and get started.

We can't wait to have your dog join our community!


---
Images: Hellwig: commons.wikimedia.org/wiki/File:Rassehund_Briard.jpg 
EJ Gouda: commons.wikimedia.org/wiki/File:Fiero.JPG  BothLicenses/by-sa/3.0