Bone Broth Dog Treats

These bone broth dog treats are so easy to make, yet dogs go crazy for them. Substitute rice flour if your dog has a sensitive tummy.

Bone broth is such a great ingredient to include when making dog biscuits because it provides many nutritional benefits.  One standout benefit comes from collagen which supports healthy joints, something that is especially helpful to dogs as they age.
So let's get busy and make some of these tasty snacks.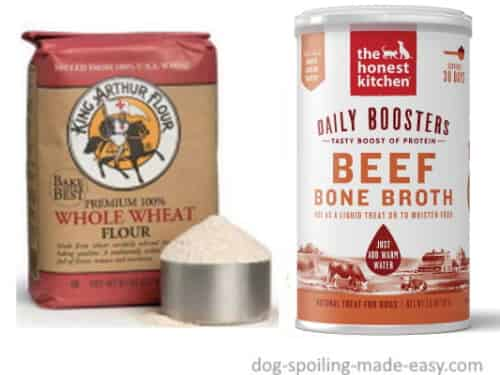 Bone Broth Dog Treats Recipe

Ingredients:
Directions:
Preheat the oven to 325°F
Combine the flour, salt, and baking soda in a bowl
Make a well in the dry ingredients.
Stir in the broth, honey, oil and egg and mix to combine
Drop the dough in ½ teaspoon amounts onto a baking sheet
Bake 4 to 5 minutes, or until golden brown
Remove from oven and cool completely
Store in airtight container in the refrigerator
Will last for up to three weeks
Nutrition Facts Per 12 g serving
Calories: 53 cal | Carbohydrates: 4.91 g | Protein: 1.13 g | Fat: 3.46 g | Saturated Fat: 0.3 g | Cholesterol: 17 mg | Sodium: 29 mg | Potassium: 29 mg | Fiber: 0.7 g | Sugar: 0.1 g | Vitamin A: 14 IU | Calcium: 4 mg | Iron: 0.4 mg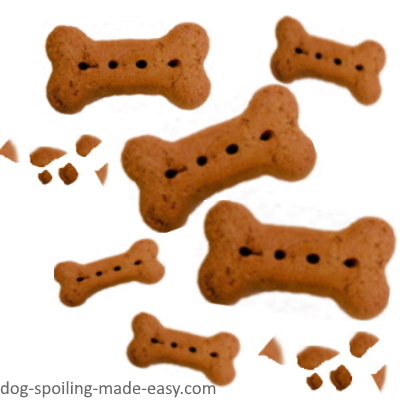 Recipe Notes
While the recipe calls for beef bone broth, chicken bone broth or turkey can be substituted. Organic is best.
If your broth has salt, omit this ingredient in recipe.

This recipe is for very small "training" size treats, but the dough can also be rolled out and cut into larger treats in any fun shape you like - perhaps "bone" shape goes well with this recipe!
If you do make larger treats, adjust your baking time. You won't over-bake if you just watch them until the treats become golden brown and feel firmer to the touch.  If you want them crisper, just leave in the turned off oven until they are thoroughly cool.
The amount of treats will vary according to the size you select.  You can also freeze some of the dough to bake up later.
Bone broth dog treats are intended for the occasional treat or used sparingly for training.