Australian Shepherd Dog Breed
by Kim & Don Gargaro
(Kerrville, Texas)



Kim and Don write to tell us their reasons for loving the Australian Shepherd Dog Breed.

Other visitors are invited to make comments below and tell us what they think about this smart Aussie dog breed!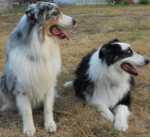 1. Brains (They think and MAKE DECISIONS) but do it all for YOU!



2. Love - Unbelievable



3. Loyalty - 100%



4. Accepting of company (my second favorite breed is German Shepherd. I grew up with them - not so good with visitors but have all of the above characteristics) but they (Aussies) do let you know if they are not cool with someone.



5. Sense of humor and ability to smile



6. Obedient



7. Know how to play nice - great at dog parks!



8. Looks. When they are healthy and clean, they are striking - whatever color.



9. Generally healthy



10. Without telling them, they know when to whoop it up and when to be "calm/submissive" like Cesar says.
---
---
Note: This page may contain links. If you purchase an item through a link, I may receive a small commission at no extra cost to you.
Join in and write your own page! It's easy to do. How? Simply click here to return to Popular Dog Breeds - Your Favorites.