AKC Dog Shows
The Best Place to See Dogs in Action!
AKC Dog shows are a really fun way to spend a day out. If you are a dog lover but you've never been to a dog show, what are you waiting for?
In fact once you get started, you'll be hooked!
A good way to start out is with an all-breed show because you'll get to see many different dog breeds. Shows usually run for three days giving ample opportunity to go back a second day to see any breeds you may have missed.
The AKC dog shows draw about 2 million entries a year, so there are numerous dogs shows being held around the country all year long.

There are several different types of dog shows, but the ones where you'll see hundreds of good looking pure bred dogs competing, are the conformance shows.
At these shows, the dogs are being judged for how closely they match the breed standards as set by the American Kennel Club. Most dogs are being entered by their owners to gain points toward the designation of Champion.
Champions are the dogs judged best to parent future generations, thereby passing along the best traits for that particular breed.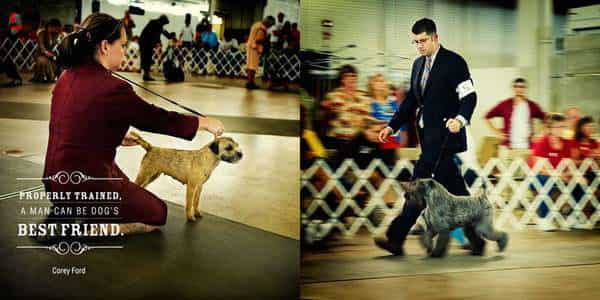 AKC Dog Show Participants
Dog show owner/participants, hobbyists and just spectators are a friendly and fervent group of dog lovers. After attending a few AKC dog show events, you'll recognize some of the same owners chatting to each other and catching up on how their dogs are doing.
If you are interested in learning more about what's involved in participating with your dog, most owners are more than happy to talk with you. In fact talking about their dogs is usually their favorite subject!
It's also a good way to find out about the judging, the different ribbons, how the points are earned and most of all how much work is involved.
There are several categories for entering a dog into AKC dog shows. Conformation, where dogs are judged according to how well they "conform" to the breed standard, is probably the most popular.
The well-known Westminster Dog Show is the ultimate canine event to view the very best representations of the numerous dog breeds that compete. But, there are several other types of competition. For example:

Companion events include:

 Performance events include:


Agility
Obedience
Rally
Tracking




Field Trials
Hunting Tests
Herding
Scent work
Lure Coursing
Should you decide to get involved, the AKC events calendar is a good place to start. Through this link, you'll be able to find out which shows include the category of your interest.
Ready To Win!
Trying To Choose a Family Dog?
Perhaps you have been reading about different dog breeds and having family discussions trying to decide which one would be the best fit for your family.

A dog show will help you immensely in making a decision. You can get up close with any breed that strikes your fancy (except don't pet them without permission - they have to look perfect for the ring!)
But, you will get a more accurate picture of their personality, intelligence, activity level, bark pitch, coat maintenance, and the chemistry that appeals to you or doesn't.

Dog shows are one of the few places for getting a good look at numerous purebred dog breeds. Plus, the breeders are usually in attendance, providing the ideal opportunity to find out about their breed stock, when they are expecting the next litter, and how well their dogs have done in competition.

Of course when you are ready to buy a dog, you'll want to talk to more than one breeder and have some specific questions to ask.

Dog Shows - Just For The Fun Of It
The most fun part of a AKC dog shows is visiting with all the different dog breeds and watching them do their stuff in the ring. You'll find yourself trying to pick the winners but it's hard because they are all adorable and all want to win.

Most dogs seem to know that they are competing and really turn on the showmanship when it counts. You might also surprise yourself by falling in love with a breed you didn't previously find appealing.
An amazing thing about dog shows is how little barking is heard. Plus the dogs are very well-behaved around each other which is definitely a vote for the advice to socialize your dog early in its life.
Most dogs start entering shows at six months of age.
When it comes to looking good, the grooming for dog shows is, and has to be, perfection. All around the perimeter of the show area you will see scores of grooming tables with dogs patiently submitting to hair drying, spraying, combing, brushing, and clipping right up until show time.

It's quite a sight to see. Even the handler will carry a comb or brush in his pocket for a hair that gets out of place at the last minute. If you watch for a slow period, you can talk to the groomers and get a lot of good advice and tips for grooming your own dog.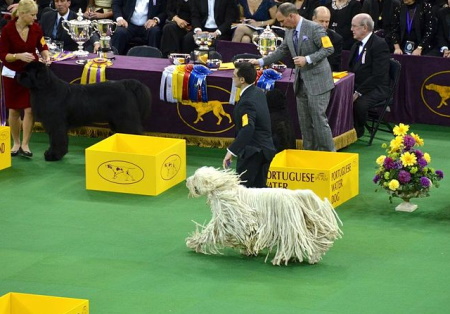 Dog Show - Tips For First Visit

When going to your first AKC dog show, try to arrive early so you'll have a chance to see many dogs.

Most start around 9:00 a.m, and finish up around 3:00 p.m. They are often 2-3 day events, sometimes 5 days.Spending the day means walking and standing around a lot so wear your most comfortable shoes. And if you have folding chairs, take them along too, which is what most people do.
Be sure to get a program so that you will know which events are taking place and when. You might also want to purchase a catalog so that you can identify the breeds and jot down notes about what you see.

The catalog will also have the name and contact information of breeders which may come in handy later.
When its time for a lunch break, a stroll around the many vendors will give you a chance to see a wide range of dog products including some very unique and innovative ideas.
After you get the hang of dog shows, check out some of the events that focus on a particular type of training such as agility, obedience, tracking, flyball, coonhound and earthdog events. As you will learn, our canine friends are multi-talented!
Helpful Links
---