Your Best Guess As To Possible Breeds
In My Dog's Mix?
by Leigh Morphies
(Welcome, NC)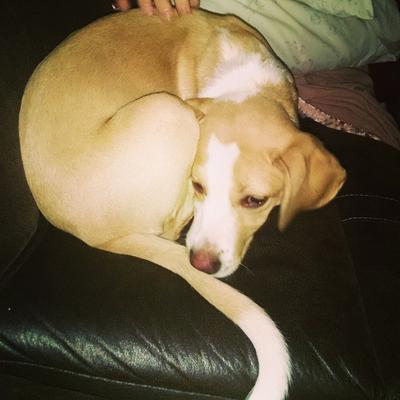 My puppy, Maya, was a rescue. Her first owner gave her away three times and each time she was returned.

I was her last chance, and she was so scared. Her eagerness to please and her loving nature made us fall in love with her.

My vet thought she may be golden retriever and beagle (possibly). Do you have any idea?



---
From the Editors at Dog-Spoiling
Hi Leigh,
Thanks for writing. I tend to agree with your vet that Maya does seem to have some physical similarities to the Golden and the Beagle breeds.
One other breed that I think might be in the mix, mainly due to the ears and body type, is the
Jack Russell
.
It's wonderful that you were able to give Maya a good home - she looks so sweet. I'm sure she'll give you much joy in return.
Here's a little image comparison I put together showing your dog and the two other breeds mentioned.
If you are really curious about her heritage, it's now possible to do a
Dog DNA Test
which may turn up more accurate details.
Hope this information is helpful and good luck going forward.