A Small Dog Harness For Your Pet's
Comfort, Safety And Training
You've probably heard that a small dog harness is a better choice for exercising a small dog or puppy. As it turns out, it often is the best option especially if you're trying to teach him/her how to take a walk without tugging.
For one thing, a dog training harness gives you better control when there's danger ahead or your pup just sees something he wants to go after. Be it a rabbit, cat or more likely another dog.
Control will make you more confident when walking your pet in difficult situations and also let your dog know he is safe when you are in charge.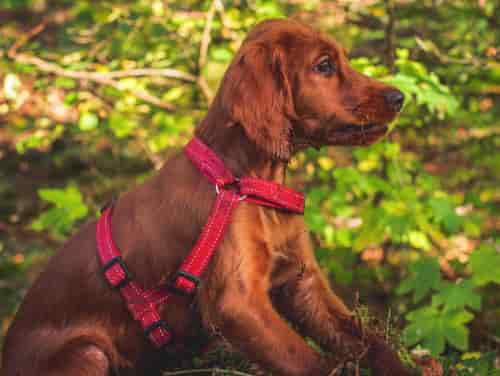 Image courtesy G Sanchez

Safer For Small Dogs & Certain Breeds
A harness does not put pressure on the neck of a little dog unlike a regular collar. Pressure on this area can lead to reduced air flow, with the risk of choking or even causing injury to small dogs.
This is a really important point when it comes to certain short nosed dog breeds referred to as brachycephalic. Dogs falling under this description are more susceptible to breathing difficulties because of their facial anatomy.
The more familiar breeds in this category include Pekinese, Pugs, Japanese Chin, Apple-domed Chihuahua and various Bulldogs. Harnesses would no doubt be a benefit to these breeds and result in a more enjoyable walk.
Small Dog Harness - Fashion, Function and Comfort
If you are looking for a stylish dog harness that is functional as well as comfortable, you will find an attractive selection below from which to choose.
Harnesses are excellent for helping you maintain control over your pet when you out for a walk. In my experience small dogs can be very feisty and often harder to handle than larger dogs. A harness is also a must have for training.
Among the popular types for training are the no-pull harness, buddy belts, harnesses with front and rear leash clips, and those described as escape proof. Materials include mesh and padded, leather, as well as those made using sustainable materials such as soy or hemp.
Most of the product listing featured here come in more than one color and size. Just click on the product to see the other colors.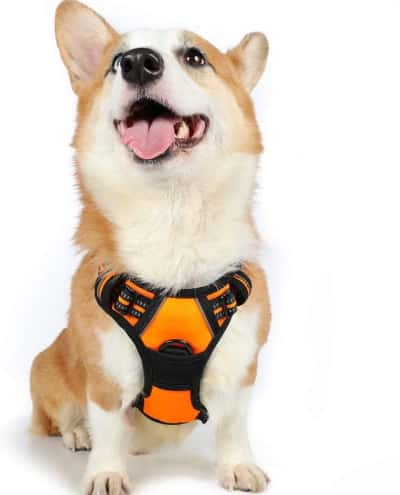 No Pull Harness Adjustable
A Pink Dog Harness For Little Girls!
Cute little girl dogs just wanna have fun - while wearing pink of course. So who are we to deny them :)
Here are some pink small dog harnesses that will make their day.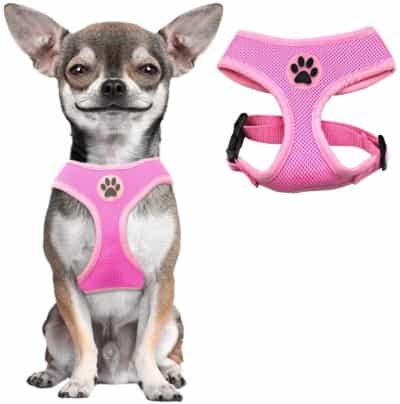 Looking Good In Pink
The Importance of Sizing A Small Dog Harness
When you are reviewing a product that you are interested in buying, be sure to check on the sizing information because getting an accurate fit is very important when it comes to a harness or collar.  Plus, there can be differences between brands, so measure your pet carefully.

This is especially true if you have a new small dog whose behavior you're not yet familiar with and/or who may turn out to be a great escape artist! Much to my embarrassment, I can vouch for this first hand.
Small Dog Harness Pricing
Whatever your budget, this page will help you find a harness at the best price. We do a lot of groundwork to come up with harnesses that meet your needs.
Some pet owners are looking for better control of their dog, while others are seeking a softer more comfortable harness for a small delicate dog or puppy. And then there are others with fashion and cuteness in mind.
Some of the things we look for in harness products are:
Functional design
Good workmanship,
Durable yet comfortable fabrics/materials
Easy to use and reliable
If products can pass muster in these areas, then price is the final frontier.
In our mind, price doesn't mean the lowest price, it means a good value for what is being offered.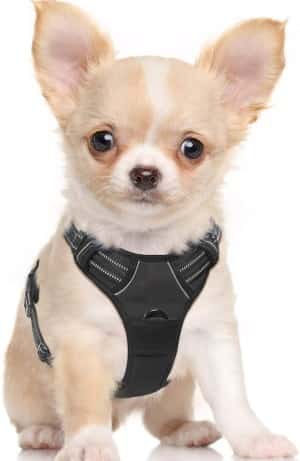 Adjustable No Pull
---
TOP