Natural Dog Food Guide
Including Dehydrated And Canned Formulas

Continuing natural dog food products: Here are some more choices that are on par with the Sojos brand we reviewed on the previous page.

Our research found the following superior dog foods scored very highly with actual users. However, we believe the main criteria for pet parents is to select a natural dog food product from those below, or others, that best meets your dog's unique needs.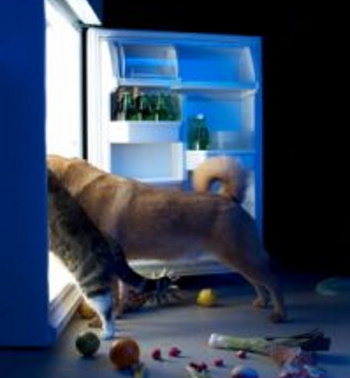 As we mentioned previously, the key is to look for human grade ingredients, with no cheap fillers, chemicals or artificial additives. Say goodbye to the low grade by-products found in the well-recognized commercial dog food brands.

Natural dog food is a far superior choice for your dog's well-being, in our opinion.
Best Natural Dog Food - Dry Varieties

Honest Kitchen Preference, Dehydrated Natural Dog Food
A natural organic dog food that is meat-free and grain-free recipe, Preference is a custom premix of fruit and veggies that you can use with your choice of added raw meat, meaty bones or cooked meat for a homemade diet. No GMOs, Made in USA. Nothing from China.
---
Honest Kitchen Force, Dehydrated Chicken Recipe
A delicious grain-free chicken recipe for adult dogs with dog food allergy concerns or who are intolerant of grains. Over fifty five-star reviews. No GMOs, Made in USA. Nothing from China.
---
Wellness CORE Grain Free Original
Turkey Formula
A grain-free diet containing the animal protein you want without the excess fat, calories or minerals your dog doesn't need. Premium protein combined with superfoods, vitamins, omega fatty acids and no fillers. Perfect for the dog who wants to stay lean and strong!

---
Wellness CORE Reduced Fat
Grain-Free Dry Canine Diet
28% less fat than Core Original, this grain-free diet contains the meat protein you want without the excess fat, calories and minerals. Protein rich, lower fat recipe using real turkey, chicken & salmon oil to help maintain your dog's healthy weight.
---
Stella & Chewy's Freeze Dried
Super Beef Patties - Grain-Free
Stella's Super Beef Dinner Patties contains 95% beef (always grass-fed!), organs and bone plus 100% organic certified fruits and vegetables to guarantee your pet is eating as nature intended. All ingredients are sustainably sourced, and NEVER from China. Made in the USA.
---
Just Fresh Food For Dogs

Convenient and ready-to-serve human edible fresh whole food in vet-formulated nutritionally balanced recipes. Preserved in Tetra Pak packaging great for travel and without the need for preservatives. Made the USA in a USDA inspected kitchen.

---

Natural Organic Dog Food - Canned Varieties
Wellness Canned Turkey & Sweet Potato
Canned wet food in a variety of protein recipe choices including duck, lamb, chicken, or fish without by-products, fillers, or artificial preservatives.
Savory ingredients contained in this selection include:  turkey with the liver, barley, sweet potatoes, flaxseed, carrots for their anti-oxidant power, salmon oil and vital supplements..
---
Solid Gold Lamb & Barley Recipe For Dogs
A natural dog food to support a healthy immune system. Contains grass-fed lamb, a delicious source of protein, plus barley and brown rice.  Perfect to feed alone, or add as a tasty topper to your dog's dry food.

Ideal for older dogs with dental problems or for young puppies. Very palatable and tempting for picky pups!
---
Instinct Grain Free Chicken Formula
by Nature's Variety
Formulated to mirror your dog's ancestral diet.  Contains 95% chicken, turkey, & liver, 5% vegetables, fruits, and wholesome ingredients. Grain and gluten-free. Healthy Omega fatty acids for a soft and shiny coat.
---
Merrick Grain Free Grammy's Pot Pie
Meets the AAFCO standards for dog food nutrient profiles.  This low glycemic meal combines deboned chicken and grain-free nutrition with no gluten for easier digestibility. No artificial colors, flavors or preservatives.
Cooked in the USA in Merrick's own Texas kitchens. Suitable for all life stages. and NO ingredients from China.
---
There are a few factors to consider in selecting the specific brand of natural dog food for your pet, some of which may need to be resolved with your vet. These include such things as allergies or any health conditions unique to your pet.
Good health to your pet.